Art Technology
Personally I love arts and I think any type of art in journalism can express special emotion and have an influence on readers. As an administrator for Pinion instagram page, I want to learn more about the art technology which includes photography, infographics and many other kinds.
We already know Piktochart can be used to make infographics, flyers, posters and banners. More functions and feature templates can be used if paid. A website I find is color splash. It is mainly to edit pictures. The effect looks good and looks more artistic. I have not used that for my art of stories but it's really a good tool.
Since pictures on Instagram are squares, which sometimes creates difficulty to post the whole photo, I downloaded an APP called Squaready which can change pictures to squares. I think this app just fits Instagram perfectly.
I have another app called MeituPic which is a chinese app for selfies mainly(the language now is English), but i can also use it to edit photos simply like adding frames or improving automatically. The one for freshman orientation this year was made with this app and Piktochart together.
I sometimes face problems when using different apps to edit the picture and the size (MB) doesn't fit. It's like the picture supposed to be posted on SNO exceeds the maximum size. That's really unlucky… So far, I haven't faced that problem but I once did find the picture on my phone was too large to upload to online editing website. I used the MeituPic to cut the picture and then it fit.
Well, by the way, I use a chatting app to upload pictures on my phone to the computer. It' s called QQ which is a very popular chinese app just like facebook here. I think there are other ways to do that.
And back to the art, several weeks before, when I was looking at my "chinese facebook" RenRen(well… so many chinese apps), I found a wonderful thing which recommends many art apps. A wonderful packet of 45 apps! I haven't tried these apps, but each has special functions and they are really professional. I just list some of them below and I'm not sure whether they are available for both ios ad android system.
VSCO
Snapseed
Filtry
Brushstroke
InstantBlend
Slowshutter
LightLeaker
Color Accent
Fonta
Litely
Wallphoto
Fliptastic
About the Writer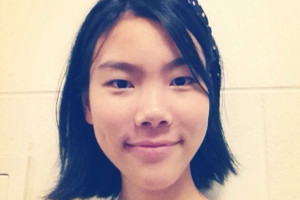 Lin Song, Web Co-Editor
Lin Song came to Hawaii this June from Shanghai China. She likes literature and is good at math. Because of her love of English language, she joined The...