It'S NO Problem #3
I am back with more information concerning images. Many readers are attracted by the story's corresponding image. This image does not always need to be a photograph, it can also be an infographic or a cartoon or a drawing.
The Pinion is always looking for student work but there are times when we do not have it. The writer typically needs to provide an image for their story to make it easier for the editors to work on the story online or the layout of the paper.
On the website, there are many stories that lack images. It makes them less appealing to the reader. To fix this problem, images must be created to connect with the story.
One of the easiest ways to obtain an image is to take a photo. They can be taken by cameras or phones. However to fit the website, it needs to be a certain size.
If a reporter has no access to Photoshop or if they need to edit the photo immediately, then the app PicArt fixes that problem. It is available on the iTunes App Store. This app has many features including the ability to resize images. Once the images are resized, the photos can be uploaded onto SNO and be a featured image of a story.
About the Writer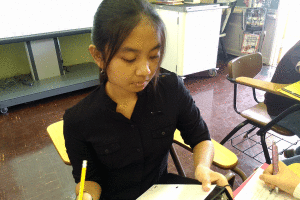 Silvana Bautista, Web Co-Editor
This is her second year being the co-editor of The Pinion.

Silvana Bautista has chosen to focus on being the online editor for The Pinion. This year...