Movie review: 'Arrival'
Hang on for a minute...we're trying to find some more stories you might like.
When twelve alien spaceships mysteriously land on Earth, protagonist Louise Banks, an expert linguist, must find a way to communicate with the aliens.
I think this movie was great, because the visuals were fantastic. The special effects used by the studio, like the explosions, were awesome. I especially enjoyed seeing the scene where the ships suddenly disappear,  leaving matter behind in a gaseous state. After watching this scene, I could tell that a lot of time, effort and money was put into the production of this film.
Another aspect of the movie that I found interesting was the plot. I loved that the plot was different, and not clichéd like most other alien-invasion films. This movie did not involve aliens trying to conquer earth with giant robots and laser beams, but instead involved aliens coming to earth with peaceful intentions.
I was entertained by the characters and their personalities. All of the characters contributed a specific role to the development of the story. The main character, Louise Banks (Amy Adams), has a personality that is very "human." The way she nervously approaches the alien vessel is proof that she is obviously scared, and is more than likely thinking about all of the possible worst case scenarios. In my opinion, having a character like this is important and helps a film, or novel be successful because people can relate to how the protagonist is feeling. It keeps an audience at the edge of their seats.
I would recommend that people over the age of 10 watch this movie, due to scenes with intense violence, and use of language. This movie was brilliant, you should definitely consider watching this in your free time. 

About the Writer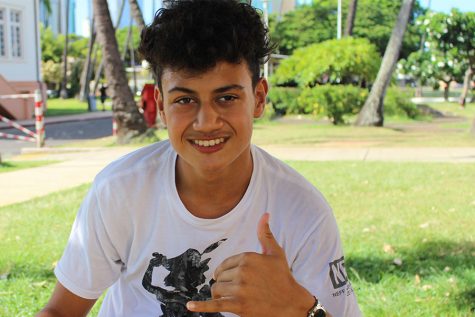 Aidan Sakaio, reporter
This is Aiden Sakaio's first year in Newswriting as a freshman. He went into this class due to his love of writing. Some of his hobbies outside of school...