Loomis teaches students to love history
Jonathan Loomis is a Spanish and history teacher at McKinley High School. He is well liked among students for having fun lessons and an amiable personality.
"Mr. Loomis is very interactive with the class and makes class fun enough where you can learn," senior You Jin Kim said. "He actually checks if students understand the material."
Students enjoy his classes because the way he teaches is fun and interactive.
"I like his class a lot and don't feel bored while he is teaching" senior Michael Sumaylo said
Loomis has been teaching since 2001 and started teaching at MHS in 2010 after he moved to Hawaii to take care of his grandparents. He was interested in learning about history from a young age and later decided to teach it as a career.
"I liked history since I was a child and so did my parents, so I would always visit historical sites and read history books." Loomis said. "Later on I decided I would like to teach history."
Loomis is not only interested history. He partakes in Okinawan Taiko, and is part of the Ryukyukoku Matsuri Daiko organization in Hawaii.
"When me and my wife first moved to Hawaii, we decided to take a class to meet people and that was Okinawan Taiko and we loved it," Loomis said.
For some, history may be a boring subject that doesn't interest them, but Loomis has made students at MHS enjoy learning about the past.
"As a student I know history is boring for most but with Mr. Loomis teaching it can be fun. He teaches history in a way that students will enjoy learning about it. If you get him next year you won't regret it," senior Raymond Lei said.
About the Writer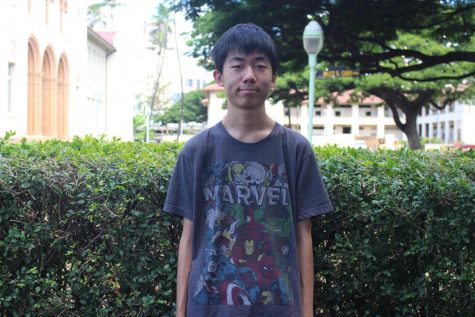 Kelvin Ku, assistant editor
My name is Kelvin Ku and I am a Junior attending McKinley High School. My hobbies are reading and my favorite book is warlock of the magus world about...