Commencement's Here, But Something's Missing
A Special Part Of Commencement Cut Down
Hang on for a minute...we're trying to find some more stories you might like.
Graduation is drawing near for McKinley High School's Class of 2018. Unfortunately, something will be missing from this year's commencement ceremony – the trees.
According to the Department of Education, wasp infestations on the banyan trees were discovered in 2006. Since then, attempts were made to fight the wasps, but in the end, the trees couldn't be saved. The DOE then decided to cut down the trees and replace them with Golden Trumpet trees that are resistant to the wasps.
"(Cutting the trees) wasn't really my decision. It came from the Department," Principal Ron Okamura said. "Basically, it was becoming a health and safety issues."
Okamura said that the dying trees were a safety hazard from the large falling branches. The school administration tried many ways to save the trees.
"Our last ditch effort (in saving the trees) was last year," Okamura said, "where UH came up with an experimental treatment."
Unfortunately, some of the trees were too far gone to be saved, resulting in the DOE's Facilities Branch deciding to cut them down.
"Throughout the years, we've periodically had huge branches fall off and break because the trees get rotten and weak," Okamura said.
In past commencement ceremonies, the trees held the letters to signal where the graduates were located. With some of the trees gone, some seniors are concerned for this year's ceremony.
"I think the timing was kind of bad," senior Suzie Park said. "One of the trees that were cut was basically the tree where my letter would've been."
Okamura said that the school administration is looking into options as alternatives to the trees that would hold the letters.
"There's a couple of things we're looking at right now," Okamura said. "One of them is that we run a line from the monkeypod trees to the first existing trees, and then hang the letters from there, and then use the other trees and put the letters as usual."
Some seniors also see the trees getting cut down as a loss of history to the school.
"The trees have such a rich and long history," senior Daniel Le said. "It's not the same without the trees. I wish they were back."
Okamura said that the missing trees shouldn't take away from the commencement ceremony.
"Things happen, and we gotta adjust and adapt," Okamura said. "It doesn't stop the ceremony from taking place. It doesn't take away from any of the grandeur, the pomp and circumstances that happens with graduation. It's just like everything else in the world; there is change."
About the Writer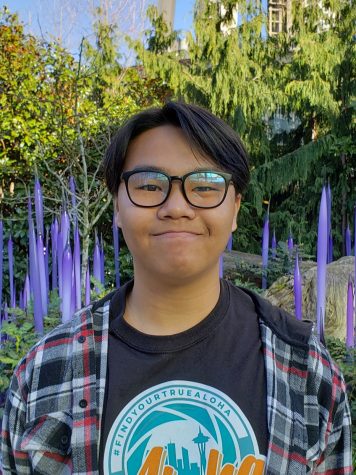 Thompson Wong, design editor
My name is Thompson Wong and I am a senior at McKinley High School. This is my second and last year in newswriting, so I'm dedicated to helping The Pinion...