McKinley Speech Team heading to Nationals
Competing At Nationals For The First Time In Six Years
On Apr. 14, the McKinley High School Speech Team competed in the Hawaii State Speech and Debate Tournament at Punahou School. For the first time in six years, the speech team will be competing at the National Speech and Debate Tournament.
Nine members of the team competed at the state tournament, and four placed in their respective categories. Freshman Aiden Reyes placed third in the Humorous Interpretation category and sophomore Aileen Chang placed third in the Original Oratory category. Seniors Melanie Lau and Winton Young placed second in the Duo Interpretation category, which qualified for the national competition.
"When I realized we were going to nationals, I just couldn't stop smiling," Lau said. "It's a feeling of great joy."
The national tournament will be held at Fort Lauderdale, Florida. The tournament starts on June 18 with preliminary rounds, then breaking to top 60 of each category. The top 60 will compete in elimination rounds, resulting in finals.
"It feels both very exciting and very terrifying," Lau said. "Competitors in the mainland just compete at a whole other level. It's another universe."
Lau and Young competed in Duo Interpretation, a category in which two competitors perform a piece from either a book or a play. The two are not allowed to look or interact with each other, or use props in any way.
"Duo (Interpretation) is pretty difficult if you're not in sync with each other," Young said. "You have to make sure you always come on time after the other person's line."
The piece that Lau and Young performed was "Sweet Nothing in my Ear," a play by Stephen Sachs. The play is about a deaf woman and her hearing husband, with a son that begins to lose his hearing. This starts heated arguments between the wife and husband on whether deafness is an ability or a defect.
"(The piece) shows not only a side of the hearing community, but also a side of the deaf community," Young said. "It really makes you question your views and stances on what's right and wrong, what's ethical or not. Especially if it involved your son."
Lau and Young learned sign language for their piece in the span of two weeks, with the help of teammate Pumehana Holmes and her mother Christine Holmes, who was formally an American Sign Language teacher.
"Melanie and Winton learning sign language for their piece was worrisome in the beginning, because sign language not only uses hands, but facial expressions as well," Holmes said. "Seeing them progress each time I saw them was gratifying because that type of progress could only be achieved by hard work and dedication, as well as long hours."
Despite making it to nationals, Lau and Young are still working hard in preparing for the competition. Speech Coach Helen Chang has been working with the two in polishing and perfecting their piece.
"Mainland speech and debate is a whole different animal," Chang said. "The Hawaii circuit has a disadvantage of being disconnected from the continental US, and therefore rarely gets to compete against larger districts. Together we will review (previous National Speech) videos and incorporate the technical with the emotional."
The national competition will be the last speech and debate tournament for the two seniors. It will be a great opportunity to spend time with their teammates one last time before they move on to college.
"It's a very great way to end my senior year," Lau said. "With the highest level of speech you can get to."
About the Writer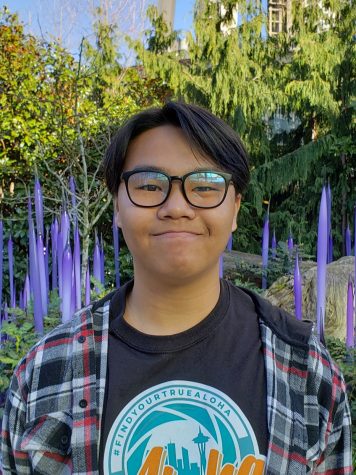 Thompson Wong, design editor
My name is Thompson Wong and I am a senior at McKinley High School. This is my second and last year in newswriting, so I'm dedicated to helping The Pinion...