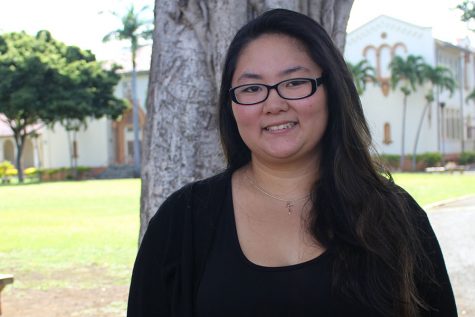 Lacey Hayashi is a senior who transfered from Roosevelt. She is in her first year of Newswriting and so far she likes it. She said that she feels as if The Pinion gives her the opportunity to express herself. Hayashi is an eager student who sees herself doing great things in the future like writing and becoming a journalist. She likes the idea of getting to write articles and stories about certain life experiences and sports. Her high school experience so far has made her mostly take an interest in art.
She said, "I didn't really know about the writing classes until this year."
Already loving the class shows that she has a lot of heart for what she does. Her favorite hobbies and interests are writing and listening to music. She listens to music when she needs to get work done so she can calm down and focus. She has been writing for a long time so she knows what she is doing and she enjoys doing it.
Lacey Hayashi, reporter
May 14, 2017

Using social media the way you want

(Story)

May 08, 2017

Class of 2017 plans ahead

(Story)

May 05, 2017

'13 Reasons Why' brings attention to teen angst

(Story)

Mar 15, 2017

What it means to be an adult

(Story)

Mar 10, 2017

Is prom where you should be?

(Story)

Mar 09, 2017

Lucy's Lab Creamery brings twist to traditional ice cream

(Story)

Feb 25, 2017

Stress takes control of teen lives

(Story)

Jan 30, 2017

Triplet deals with multiple surgeries

(Story/Media)

Dec 20, 2016

Students reflect on opportunity

(Story)