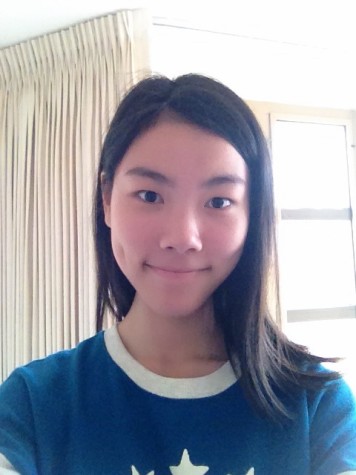 Lin Song came to live in Hawaii in June 2013 from Shanghai, China. After she came to MHS, she chose Newswriting class and this is the second year for her to be a member of The Pinion.
Lin likes to write about things she is interested in.
"It's really great to focus on that topic, interview people, find out statistics and facts and write out your own observations to people," Song said.
She faced writing problems at first, such as grammar. However, learning can change everything.
"Taking challenges and overcoming obstacles are sometimes quite fun," she said.
Lin Song, Print Design Co-editor
May 21, 2015

21st century skills

(Story)

May 21, 2015

One-to-one session needs improvement

(Story)

May 08, 2015

What makes a perfect prom?

(Story)

May 08, 2015

Procrastination is not good at all

(Story)

Mar 12, 2015

Flores shares his experience with CTL members

(Story)

Feb 26, 2015

Every issue means a lot

(Story)

Feb 14, 2015

Do not be a Pinocchio

(Story)

Feb 11, 2015

It can be hard to get story ideas

(Story)

Feb 09, 2015

Every journey is fantastic!

(Story)

Feb 08, 2015

Guest speakers' journalism experience

(Story)

Feb 02, 2015

Seniors choose their majors and careers

(Story)

Jan 20, 2015

Wang improved her English as an ELL student

(Story)

Nov 28, 2014

Senior sets up a petition to have a name-called graduation at McKinley

(Story/Media)

Oct 31, 2014

We Need Attention

(Story)

Sep 29, 2014

Academy of Finance provides various opportunities to students

(Story)

Sep 29, 2014

Be Careful about Your Time

(Story)

Sep 09, 2014

Catch every moment!

(Story)

Sep 09, 2014

Candidate for governor speaks to McKinley students

(Story)

Aug 21, 2014

Test scores show a correlation with students' feelings towards math

(Story)

Aug 21, 2014
Aug 04, 2014

Welcome Back Tigers!

(Story/Media)

May 16, 2014

We learned something about journalism

(Story)

Apr 07, 2014

Tiger Time gets mixed reviews

(Story/Media)

Apr 10, 2014

GPA should not be below 3.0

(Story)

Mar 13, 2014

Law society coaches students

(Story/Media)

Jan 26, 2014

Procrastination is not so bad

(Story)

Jan 21, 2014

Tiger expresses inner passion

(Story)

Dec 12, 2013

Volunteers experience College and Career Fair

(Story)

Nov 15, 2013

School encourages sports attendance

(Story)

Oct 04, 2013

Healthy food available for Tigers

(Story)

Sep 01, 2013

Reporter's advice: Take a step back

(Media)

Aug 21, 2013

The principal who got to Point B via Point Z

(Story)

Aug 19, 2013

Key to column writing: research and interest

(Story)