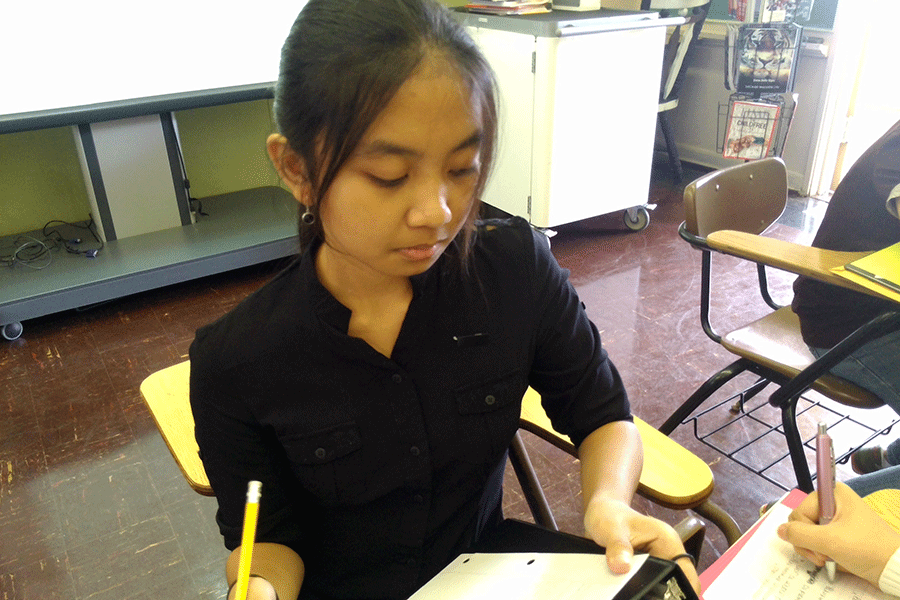 This is her second year being the co-editor of The Pinion.
Silvana Bautista has chosen to focus on being the online editor for The Pinion. This year she plans to learn about more of the features that are available on SNO. Bautista also plans to include new content on mhspinion.com every week to keep readers updated on events going on in school and the community.
"I am looking forward to keeping readers informed this year," Bautista said.
Silvana Bautista, Web Co-Editor
May 20, 2015

Final Learning Blog and Reflection

(Story)

May 18, 2015

Seniors find pride through Commencement Speeches

(Story/Media)

Apr 25, 2015

Readers read recycled stories

(Story/Media)

Apr 24, 2015

The perks of being a head worrier

(Story)

Apr 15, 2015

Are your classes worth your time? Four views

(Story)

Mar 20, 2015

Marr's Wicked Lovely merges fantasy and reality

(Story)

Mar 19, 2015

Riordan's Kane Chronicles visits Egyptian mythology

(Story)

Mar 13, 2015

Sales stay low regardless of advertisements

(Story/Media)

Feb 18, 2015

Page Layouts can be seen as a game

(Story)

Feb 13, 2015

'Birthmarked' by Caragh O'Brien shows importance of family

(Story)

Feb 12, 2015

Hahn's 'UnEnchanted' visits the curse of the Grimm family

(Story)

Feb 05, 2015

Composition is important when taking pictures

(Story)

Jan 31, 2015

Chihiro Mase gets beyond bone cancer restrictions

(Story/Media)

Jan 30, 2015

Muranaka and Takamori get inducted in the Hall of Honor

(Story)

Jan 28, 2015

Black and Gold Week

(Media)

Jan 18, 2015

Advertising does not always attract attention

(Story/Media)

Jan 16, 2015

It'S NO Problem #5

(Story)

Dec 15, 2014

It'S NO Problem #6

(Story)

Nov 16, 2014

Leaders need courage to be effective

(Story/Media)

Nov 05, 2014

Majority of students show no concern about storms in general

(Story)

Oct 31, 2014

It'S NO Problem #4

(Story)

Sep 27, 2014

It'S NO Problem #3

(Story)

Sep 25, 2014

Freshmen share thoughts on Homecoming Dress-Up Days

(Story)

Sep 15, 2014

Book Club starts off with an election for officers

(Story/Media)

Sep 07, 2014

It's NO problem #2

(Story)

Aug 28, 2014

Alexandra Kaohi gains confidence in Speech and Debate

(Story/Media)

Aug 21, 2014
Aug 17, 2014

Guittu and Phan share thoughts about Welcome Back Assembly

(Story/Media)

Aug 07, 2014

McKinley is one of many schools designated as shelter

(Story)

Aug 03, 2014

Blindfolds play important role in Freshman Orientation

(Story)

May 16, 2014

News Writing allowed growth of knowledge in journalism and self

(Story)

Apr 15, 2014

First Amendment allows freedom with limitations

(Story)

Apr 07, 2014

Seniors consider passions when deciding plans for future

(Story)

Mar 13, 2014

Law society coaches students

(Story/Media)

Mar 02, 2014

Prom necessary for high school experience?

(Story/Media)

Feb 23, 2014

Memories of a photo

(Media)

Jan 29, 2014

Hall of Honor Inductees 2014

(Story)

Jan 26, 2014

Robotics teaches lessons about engineering

(Story/Media)

Nov 09, 2013

Dancers take a spin on teamwork

(Story/Media)

Nov 09, 2013

Powerful speech moves emerging leaders to take action

(Story)

Nov 08, 2013

Cap and Gown Ordering Begins

(Media)

Nov 07, 2013

What did you think of the lockdown drill?

(Media)

Oct 23, 2013

Grant's Gone series seize audience's attention

(Story)

Oct 04, 2013

Interest leads to passion

(Story)

Oct 04, 2013

My Lu wins Pinion header contest

(Story)

Sep 21, 2013

Tiger Locker helps Homecoming spirit

(Story)

Sep 01, 2013

Reporter's advice: Take a step back

(Story)

Aug 21, 2013

The principal who got to Point B via Point Z

(Story/Media)

Aug 12, 2013

Welcome Back Assembly has highlights and message

(Story)

Aug 06, 2013

Freshman Orientation: Thoughts of our freshmen

(Story)