Grant's Gone series seize audience's attention
The mother buckles her daughter into the car seat in the back seat of their car. They pull out of their driveway and head off to the toddler's daycare. The little girl sings along to the music playing while she points at the passing cars. Her mother looks in the mirror and smiles at her giggling daughter.
Suddenly, the car veers off the road and kills the child instantly. The mother's state, on the other hand, remains a mystery. She disappeared right before the car crashed.
This is one of the many strange and disregarded events of one unfortunate day in Perdido Beach, California.
In the Gone series by Michael Grant, everyone fifteen and older disappear without warning, leaving everyone else confused, scared or dead.
The surviving children name their new society the FAYZ as in Fallout Alley Youth Zone. Sam Temple is one of the children who immediately decide to take action. Several other children, such as Astrid Ellison, Quinn Gaither and Edilio Escobar, assist Temple in this. In addition to the children of Perdido Beach, children from the neighboring school arrive. From this school, several students immediately stand out, such as Caine Soren, Diana Ladris, and Drake Merwin.
Grant writes about these characters, as well as many others, and their successes, tragedies, maturity and, ultimately, their freedom from the FAYZ. The Gone series consists of six books titled Gone, Hunger, Lies, Plague, Fear and Light.
About the Writer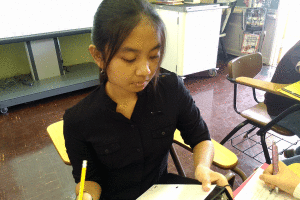 Silvana Bautista, Web Co-Editor
This is her second year being the co-editor of The Pinion.

Silvana Bautista has chosen to focus on being the online editor for The Pinion. This year...