Make-A-Wish foundation hosts 7th annual Jingle Rock Run
An Vo, reporter
January 10, 2020
Hang on for a minute...we're trying to find some more stories you might like.
Jingle Rock Run celebrated its 7th annual run which is also a local charity with a family-friendly festive holiday walk in Downtown Honolulu on Dec. 15. Walkers, joggers, runners, strollers, and pets participated in the event to support the Make-A-Wish Foundation of America, a nonprofit corporation, to support local keiki throughout Hawaii who are battling critical illnesses and creates life-changing wishes. The run was hosted to help transform their lives one wish at a time.
Rona Duldulao is a sophomore flutist and is a part of McKinley's marching band. She said she is passionate about being a member of the marching band because she gets to play football music and see people listen to the band.
"[Being in marching band] is something I find fun to do," Duldulao said. "I like playing the football music. When I see people enjoy our music, it makes me happy."
Duldulao said her favorite part about performing at the charity was seeing people enjoy the run with football music accompanying the event.
"My favorite part about Jingle Rock Run is again, playing the (football) music and seeing people enjoy it," Duldulao said.
Katherine Liu is a sophomore percussionist in the marching band. She said the main purpose for the Jingle Rock Run is to engage in community service during the holiday season by providing music for the runners who ran to support the Make-A-Wish Foundation.
"I find this pretty fun to do as we play pep band music and songs from the parades we marched in," Liu said.
Liu said her favorite part about the event was knowing that she made other people happy through music. It gave her a sense of pride.
"My favorite part about the Jingle Rock Run was knowing I contributed to the community in a way through music," Liu said.
About the Contributors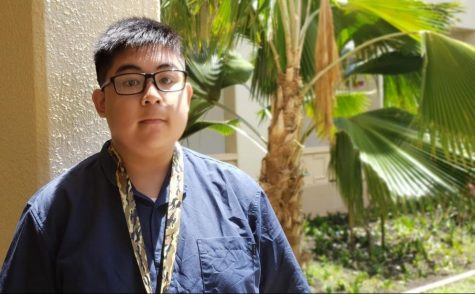 An Vo, reporter
My name is An Vo, and I'm a freshman reporter for The Pinion. During my free time, I usually practice the flute to better myself as a musician in the McKinley...