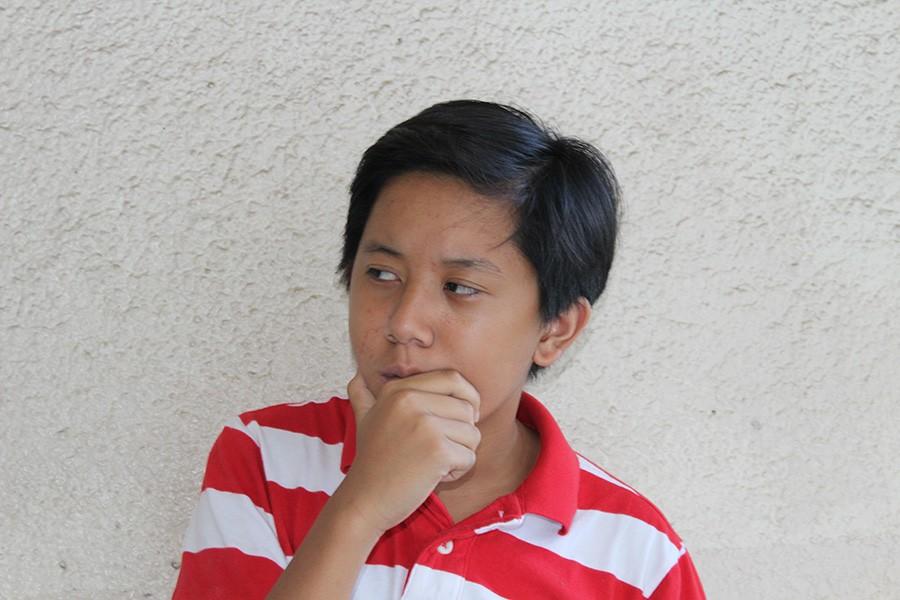 Biographical questions



Strength: My accomplishments




Fear: Failure




Birth place: Island of Oahu, Honolulu HI




5 adjectives: Smart, Average, Fun, Nice, Good




Height: About "5"




Intermediate: Central Middle School




Blood type: Unknown




Married: Not




Motivation in school: Getting a good review



Tid Bit Questions



Favorite hobby: Video Games




Who I resemble the most: My Grandpa




Languages Spoken: English




Inspiration and why: Parents because they expect me to be a role model in life




Favorite subject: LANG ARTS




If I were to travel anywhere: I would go to see the big ben




Describe happiness: Love, joy, happy moment, and nothing to worry about



---
Brother is a Brother
Freshman shares his experience with his brother
by Hoang Nguyen
They say that friends come and go but, family is forever.  This is a story about an important event in James Deguinon's life. Nine years ago, James was six years old. He was just a kid. James is the youngest one in his family. He also has his older sister, Jasmin and his older brother, Jonathan.
---
The older brother used to always tease him. At one time Jonathan went too far and hurt James. James would told him to stop but Jonathan wouldn't listen. James' older sister, Jasmin  was the person that always stopped Jonathan from saying mean thing to James. Sometime, James used to think that his sister would stay with him and his family forever. But life is not beautiful like a dream. His sister went to college a few months after.
---
"I always thought of him as if he was my enemy or a rival but as a kid you grow and you learn more about yourself and the people around you," said Freshman and Pinion staff James Deguinon.  When James grew up, he started to understand everything around him. His brother Jonathan is James' half brother. He was really smart but always did badly at school. And he got bored very easily, so James had to stay home with his brother when his mother and father went to work.
---
A few months after, Jonathan went to the Cebu which was part of Philippines to study. His mom thought he was doing bad at school so he told him to go study over there and come back in 2 years. James was very happy because he did not have to hear teasing from Jonathan anymore.
---
"Well I never actually thought he was like that until he left to go study and the rest of my days was just the same but without him," said Deguinon.   A few days after Jonathan left, James felt lonely and sad. He didn't know why he got that feeling. Sometime, he thought he missed his brother, Jonathan. James knew that was crazy because he hated Jonathan before. However, he couldn't hate Jonathan forever.
---
A few years after, Jonathan came back home. He was still mean to James but he didn't tease James much. He dropped out of high school and now he has a job. He works very hard and he almost never teases James anymore. Right now James goes to the same high school that his brother dropped out of and now he understand Jonathan more.
James Deguinon, reporter
Apr 28, 2016
Apr 28, 2016

Video games + Education = Benefit?

(Story)

Apr 26, 2016

McKinley shares sports history

(Media)

Apr 14, 2016

All out or stress out?

(Story)

Mar 08, 2016

Living History – Hall of Honor Assembly

(Story/Media)

Feb 12, 2016

Compulsive texting correlates with academics

(Story)

Feb 04, 2016

Team manager shows pride with dedication

(Story)

Nov 02, 2015

Dress code changes incoming?

(Media)

Oct 18, 2015

Taste Tea exceeds expectations

(Story)

Sep 25, 2015

Homecoming game forfeited

(Story)

Sep 25, 2015

Homecoming Assembly Slideshow

(Media)

Sep 09, 2015

Bullies are happy?

(Story)

Sep 04, 2015

Principal shows true character

(Story)

Aug 19, 2015
Aug 18, 2015