2010 – 2020: Decade in review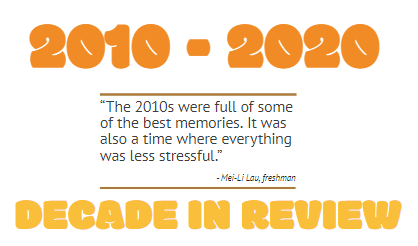 The 2010s have ended and a new decade has started. Numerous things have changed, but people still remember how different it was back then. One memory was the way people dressed in the early 2010s.
"I for one was guilty of some questionable fashion trends in the early 2010s, such as layering my clothes, more specifically my pants. I would wear leggings and shorts or a skirt on top of that," freshman Mei-Li Lau said.
"My friends were still wearing stuff like Hollister. Forever 21 was really popular, and Aeropostale," English teacher Evon Le said.
People remember spending time with their friends in school or spending time with family playing mobile games that were popular.
"Growing up, me and my cousins would play a lot of games on our tablets such as Angry Birds and Candy Crush," Lau said.
"I liked all the fun I had with my friends, because it was when we had a lot of assignments where we would work together on it and talk story." Le said.
There were many trends that people took part in.
"All the kids in school used to collect silly bandz and loom bracelets. Kids at my school used to be obsessed with kendamas, fidget spinners, and rubix cubes," Lau said.
"Katy Perry was really popular at the time. Taylor Swift was really popular at the time. Ariana Grande had just become a known pop artist, so I remember back then pop music was really in at the time," Le said.
The 2010s were a time of change for many.
Freshman Hannah Gelacio moved from the Philippines. "I met so many great people who I have made unforgettable memories with, which I wouldn't trade anything for," she said.
"The 2010s were full of some of the best memories. It was also a time where everything was less stressful," Lau said.
"I still feel like there were a lot of missed opportunities that I didn't take, because I felt like I was too busy or I didn't have much time. But as you get older you realize that you actually did have a lot more time back then vs. time now," Le said. "As you get older, you get more responsibilities."
Many changes were positive
"Since the 2010s, people have been more accepting of others. Whether it being what they chose to wear, to their sexuality, or even about their mental health," Lau said.
Language errors were corrected on March 01, 2020.