Former Newspaper Reporter Gets Involved With School Community
After living near McKinley High School for many years, Dianne Boons, a local neighborhood resident with a passion for writing, discovered the means to finally become involved with and contribute to the school community.
Boons is a former newspaper reporter who worked for The Daily Times-Call in Longmont, Colorado. She has written on a variety of topics, including mental health, for which she received a Mental Health Association award.
"People would stop me in the streets and thank me for helping them," Boons said.
She later relocated to Hawaii in 1982 to help her brother with administration duties when he was establishing a law firm. But her involvement with the school started in 2022 when she learned that it had a band booster program. She said she loved playing in the band all throughout her childhood and wanted to be involved with it again.
"I've seen the McKinley band in parades. Their skill and showmanship are impressive," Boons said. "I've always wanted to support them."
Due to her explicit desire to be involved with the program, she was invited to attend one of the band booster's meetings where she eventually became a member.
"I'm really glad supporting these young musicians in achieving their dreams," Boons said.
During the meeting, a fellow booster member also suggested she join the School Community Council to participate in making key choices regarding school programs and policies alongside groups of parents, teachers, and community members.
"I'm really happy to be a part of it," Boons said. "I think It's a great way to give back to the community and support the school."
In addition to her contributions to the band booster program and SCC, she has also been volunteering every Tuesday working with The Pinion's student journalists to provide them with feedback on their articles based on her experience as a journalist.
"The skills and lessons I've learned from my news-writing career has greatly impacted me in both community service and professional work," Boons said. "Once a journalist, always a journalist."
Boons says both student and professional reporters should be aware of the language their community uses to express themselves.
"Language isn't necessarily English or Spanish. It's what the people around you are speaking and writing," Boons said. "Everywhere you go, every job, every university you go into has its own language."
She said she wants to help young journalists in becoming influential writers in the future.
"I want them to be aware of that sociology so they can inform, inspire and illuminate the stories they write to other people."
Boons said she has always wanted to be a part of the school community, to help and support the students in tangible means and ways.
"You're supposed to help and support your local community, but I've never really figured out how until now," Boons said.
She said many people in the public are unaware of the numerous events held at McKinley.
"When I became a band booster, I only then learned about the free concerts, the plays, and parades this school has," Boons said.
Boons hopes to spend her time as a band booster, volunteer and a local resident in spreading opportunities for the community to be closer together.
"After 40 years in this neighborhood, I finally can support the school," Boons said. "Many of us would love to help."
Leave a Comment
Your donation will support the student journalists of McKinley High School - HI. Your contribution will allow us to purchase equipment and cover our annual website hosting costs. We also have advertising options.
About the Writer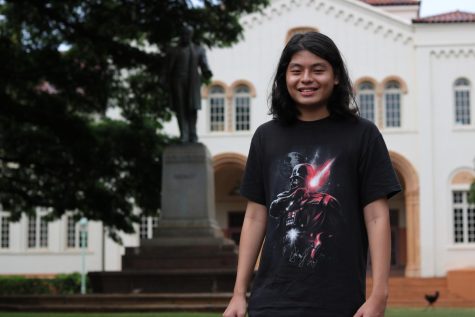 Dominic Niyo, assistant editor
Hello there! My name is Dominic Niyo and this school year, 2022-23 is my first year working with The Pinion. I joined  News-writing because I wanted to...