Book censorship exists until now
National Library Week is on April 23-29 and celebrates the valuable role of libraries, librarians, and library workers in transforming lives and strengthening communities. One thing, though, that weakens the impact of libraries is book censorship. Book censorship is occurring on the mainland, like the ban on critical race theory books in Florida in 2019. In an article made by the American Library Association, there were 1,269 demands to censor library books and resources throughout the United States in 2022. Also 2571 unique books were targeted for censorship in the United States during the same year, with most of them being written by or about members of the LGBTQIA+ community, people of color. Some are even childhood and literary classics, like "The Giver" by Lois Lowry. Some teachers from Florida removed many of their books from their classroom library due to a law that requires only approved books be in the classroom, and not, yet, approved books have to go through an approval process.

In Hawaii, according to the State of Hawaii Board of Education, the Board of Education and the state librarian has responsibility over the selection policy, while decisions regarding the selection of books and other resources are the responsibility of the public service librarians of the state library system. In the website, the Library Bill of Rights states that books and other library resources should be provided for the interest, information, and enlightenment of all people of the community the library serves. Materials should not be excluded because of the origin, background, or views of those contributing to their creation. It also says libraries should challenge censorship in the fulfillment of their responsibility to provide information and enlightenment.

THE PROBLEM WITH CENSORSHIP
Laura Nguyen (c/o 2024), vice president of the Book Club, said she has mostly noticed books pertaining to the LGBTQIA+ community and critical race theory are the ones being banned. Nguyen said she thinks right-wing states have a huge spike in censorship and bans on books mostly because the books don't align with their conservative views.

Nguyen said censorship impacts people in a negative and not-so-obvious way. She said censorship is a way to restrict knowledge to the students and the public on how certain communities are, making them resort back to stereotypes. Nguyen said censorship erases the progress communities have made and reinforces old and outdated notions, such as women can't be independent.

"If we are censoring women's voices, we are also censoring their identities and the things they have done for the community," Nguyen said.

The Book Club members listed topics they say shouldn't be censored at all and should be exposed to all audiences.

"Censorship causes a lot of harm to oppressed communities," the Book Club's treasurer, Daisy Wallace (c/o 2024), said. "Talk about history, inclusivity, LGBTQIA+, mental health, and sexual assault shouldn't be censored."

Nguyen said those who are curious about heavy topics should be able to learn about it.

Kimberly Maniquiz (c/o 2024), the Book Club secretary, said she is against censorship,
"It excludes things like inclusivity and history that should have been talked about," Maniquiz said. 
THE GREY AREA
The Book Club officers agreed that librarians and teachers need to consider the age of the audience when choosing books for students. Jennifer Danh (c/o 2024), Book Club president, said that situations like, perhaps, death and specific grotesque details of death should be kept hidden from younger audiences. "I can understand why some books are banned in schools with younger children, but as we get older we need more freedom in what we read," Danh said. Danh said children still need to know the general premise of heavy topics and that it exists.

Sandy Domion, McKinley's librarian, said censorship is on the rise, and is a form of control. She said she is grateful to other librarians who are aware of these things that are happening. Domion said she is against censorship, and that people should have the freedom to say what they want as long as they aren't spreading falsehoods at the expense of others. She said people interpret things differently, and it is up to their own critical thinking to judge whether or not a book is appropriate for them.
"Just because students read books about violence doesn't mean they grow up to become criminals," Domion said.

Domion said there are books that have been  adapted for younger audiences, books such as "Unbroken" by Laura Hillenbrand, and "Just Mercy" by Bryan Stevenson. Having books adapted makes it so that it would be more appropriate to all audiences, and make them aware of heavy topics. Domion said people should be able to know about things if they ask about it.
"The more you read, the more you know," Domion said
Leave a Comment
Your donation will support the student journalists of McKinley High School - HI. Your contribution will allow us to purchase equipment and cover our annual website hosting costs. We also have advertising options.
About the Writer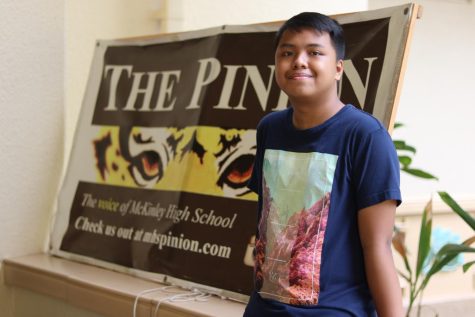 Sean Willem A. Giron, reporter
Hi, my name is Sean Willem A. Giron, Class of 2026. I am a reporter for The Pinion. I have had experience in journalism in the Philippines. I was involved...