Students place at 2019 Physics Olympics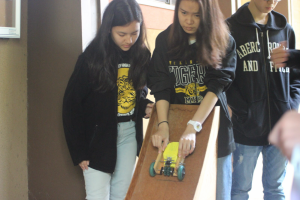 For many, a Saturday morning is a time to sleep in and recover from work or school. Some McKinley High School students skipped the rest and went to Kapiolani Community College bright and early on February 2 to participate in the 30th Annual Hawaii Physics Olympics and Regional Bridge Building Contest.  These students' sacrifices were not in vain, and they came back with multiple titles from the competition.
MHS juniors and seniors formed six different teams to represent this year. There were multiple events during the competition, requiring these students to use their knowledge and think outside the box.
Junior Jessica Nagasako participated in the event for the first time this year. She was able to gain more knowledge from this experience, as well as collaborate with her team who she spent countless hours prior to the competition.
"My team worked pretty well. We got closer because of the late nights spent building our car," Nagasako said. "Plus my teammates were also incredibly smart and acted very quickly during the challenges."
The variety of events appealed to many of the students who had different interests and strengths. These activities not only tested students' book smarts, but their ability to think on the fly and collaborate with a team.
"I liked my team. We actually didn't have any miscommunication and we [got] along with each other pretty well. I enjoyed the challenges and I learned a lot."