Okamura prepared for challenges
Okamura shares his plans for McKinley High School and what has happened in the campus.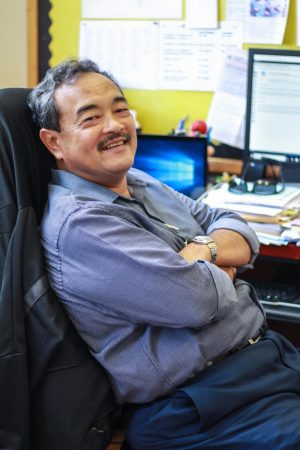 Ron Okamura, the principal of McKinley High School, looks forward to seeing improvements within the school. He told The Pinion staff about his goals for the school and what he looks forward to this year.
Okamura's philosophy at any school he has worked at is that it would be the best in the nation.
"I truly believe whatever school I'm at, that's the best school in the nation," he said.
Okamura said he looks forward to seeing the school strive for success in attendance, test scores, graduation, etc. He also expects multiple challenges this year.
"Increasing our graduation rate, looking at our attendance, having students come to class every day, teachers teaching quality lessons so you folks are learning," he said. "To be the very best you can be. That's a challenge, but it's also a goal."
Okamura said he has seen a lot of changes in the school since he came here twelve years ago. The biggest change he has seen has been in the neighborhood.
"The whole area has grown. With that comes with [the diversity of] our students," he said. "I like diversity because it gives us a different perspective on how everybody lives."
McKinley, a Great Schools Finalist
With growth comes excellence. McKinley was one of three national finalists in the Great Schools competition.
"We are one of the top three schools in the nation that helps support our students not only to go to college, prepare for college, but also to graduate from college," he said.
Okamura said the Great Schools competition wasn't based on the quantity of graduated students, but on the amount of students who enrolled and continued in college.
"It was taken into consideration how McKinley supports those two [factors]," he said.
Safety, vision and mission – areas of focus
When the school went through accreditation last year, one area of focus found was safety.
"This school is a very wide campus," Okamura said. "People walk in all the time and we're not really sure who belongs here and who doesn't."
Okamura said the committee recommended everyone wearing identification cards as a mandatory requirement. If students don't want to wear IDs, then the school might have to resort to school uniforms to ensure the safety of the school.
"I don't want to wear uniforms because that's an elementary to middle school thing — you guys are old enough to do this," he said.
Okamura said everyone has a part in campus security and it's their responsibility to have common sense.
"If you see something that's going wrong, you have to let the people (adults) know," he said. "[If] people are doing something wrong, report them."
Okamura talked about the school's vision and mission, another area of focus from the accreditation team. He said the current vision was to transform students into productive citizens by the time of graduation, and it hasn't been changed for ten years.
"We are in the process of revisiting the vision and either coming up with a new one or keeping it the same," he said.
Discouraging the vaping epidemic
Okamura said the growing epidemic of vaping has been discussed every meeting he has with the school. He said vaping is dangerous and should be avoided to preserve a healthy lifestyle. Vaping has been a trend because of its ability to substitute for cigarettes.
Although the ingredients of vape may seem harmless, Okamura said it's still unhealthy.
"Vaping has been around not that long, so [researchers] really don't have that data (negative side-effects)," he said.
Okamura said students have to be responsible for their actions, whether or not they decide to the right/wrong thing.
"We can tell you guys all the bad things … it's up to you folks to change your attitude," he said.
W-Building renovations completed
Okamura said renovations on buildings around campus began around 25 years ago. W-Building renovation has just been completed.
"W-Building was the last one in the list to be renovated," he said.
Okamura said the staff couldn't find enough classrooms for displaced classes from W-Building, so they decided to finish half of the building per year.
"We were worried because this was such an old building because of termites and a lot of the windows weren't working and were falling out," he said. "[It's] not only nicer but safer as well, too."
Heat abatement
The school is very warm. Okamura said it's because the school doesn't have enough electrical power to run and funds to purchase air conditioners for the buildings.
"If we can get that power situation taken care of, then we can start looking into putting ACs in the buildings," he said.
"The number one factor besides the power is [the] cost."
Okamura had considered using solar-powered ACs to save money during the day using clean energy. However. He was puzzled as to where to place the panels. He said the panels would ruin the roof of the buildings.
New Bell Schedule
McKinley has a new bell schedule this year. Okamura said he has only received positive feedback from the community.
"As far as from students, I have not heard anything negative," he said. "Teachers also like it because [of] the fact that now it's consistent."
Okamura said the schedule has many benefits.
"It allows us to offer college classes," he said. "It allows us to do internships for students to get jobs … or go to early college."
An option that was rejected was skinny days when all seven periods are packed into a day with a short duration per class. Okamura said teachers tend to give tests/quizzes on a skinny day because there isn't enough time to give lessons during skinny days, so he did not want McKinley to have skinny days.
"I don't want to do skinny days because to get tests and quizzes every Friday or Monday, it would kind of be a bummer for you guys," he said. "[With a consistent schedule,] we can offer more things for you folks during the day, such as college classes."