Canceled Parade of Bands and Orchestras take away traditions
The Parade of Bands and Orchestras are concerts performed by students in the band or orchestra at McKinley High School which are graded based on how well music is performed. This year's concert was announced to be performed in the M.M. Scott Auditorium on the evening of April 10.
"Since we get graded, we want to get the highest score," sophomore flutist Rona Lei Duldulao said. "We play different music [from Pops Concert] for the Parade of Bands."
Duldulao said the band and orchestra gets graded by a judge, usually a person experienced in music.
"Last year, our judge was Lieutenant Cartwright (the conductor for the Pacific Fleet Band)," she said. "We're lucky since we get to practice in our very good auditorium."
Due to the risks of Covid-19, the Parade of Bands and Orchestras have been canceled this year. The last time the concerts were canceled was before the time music director Donna Hesch worked at McKinley around 20 years ago. Duldulao said the cancellation of the Parade of Bands is saddening.
"Especially for seniors, they won't have their last Parade of Bands concert," Duldulao said.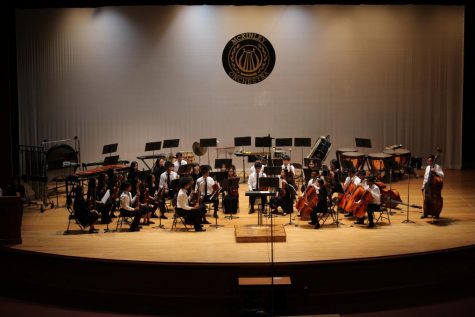 Sophomore percussionist Noah Fouts said the cancellation of the concert made him feel bad for the seniors.
"They put a lot of hard work into the program and for it (the concert) to be canceled [is unfortunate]," he said.
Junior clarinetist Angelo Luna said he's sad that the concert has been canceled because it could've motivated McKinley's musicians to improve for the upcoming Spring Concert.
"It's one tradition in a sense taken away from us because we usually do it every year," he said.
Sophomore violinist Aniqua Mehdi said it was upsetting to have the concert canceled because a lot of time and effort were spent playing their music.
"I was looking forward to playing some of my favorite songs, for example, "The Glades," she said. "It was also supposed to be the last Parade of Orchestra for our seniors."