Oahu Business Owners Reflect on Unexpected Flood
After the rain and floods ended in Oahu, business owners on the island look back at the flood and contemplate the event.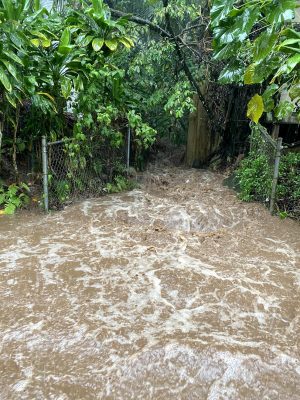 During McKinley High School's spring break, heavy rains approached the island of Oahu, destroying many areas.
Locations such as the North Shore and Windward Oahu were impacted by the rains more gravely than other areas. Residents living around McKinley High School may have experienced the weather differently through electrical blackouts and other inconveniences.
Business-wise, the flood caused great damage. According to Hawaii News Now, the Windward area received 18 inches of rain, which caused the Waiahole River to overflow. There wasn't much area business could have done to protect themselves. The overflowing water spread into businesses such as the Waiahole Poi Factory. Equipment floated away or was damaged due to this event.
"It rains all the time here. But this was highly unusual. So I'm going to say, even if you have sandbags, that's kinda like hard to plan," Waiahole Poi Factory owner Leinaala Cruz said in an interview with The Pinion.
Cruz said they were not expecting to flood, but on the second day of the rain, the eatery started flooding.
Other businesses such as Giovanni's Shrimp Truck were not very prepared either.
"Just make sure that where you're at is cleaned out. But in all honesty, you can't really prepare for a disaster that happens like this of this magnitude," Erin Nitsche told The Pinion.
After the flooding cleared, clean-up followed. Because these businesses are in a flood zone, insurance doesn't cover anything and everything has to be paid out of pocket.
Killer Tacos owner Chris Bair said his business faced a couple of inches of mud. He and his employees had to squeegee the water out of the Haleiwa restaurant. Bair said the business managed to reopen the following day on Tuesday. He said he advises business owners to have a quick reopening.
"It's very important, though, as a business person, that you try to get things cleaned up and fixed as quickly as possible and then you reopen," Bair said. "And that's exactly what we did."
Bair also said that at least 40 people were present and prepared to help. The community cleaned up driftwood and garbage and provided food and cleaning supplies. He said everyone was generous and he found it amazing.
"And if there's anything we can do to help in any way, we're going to help our fellow community members," Bair said. "Like they helped us."