How Students Celebrate Thanksgiving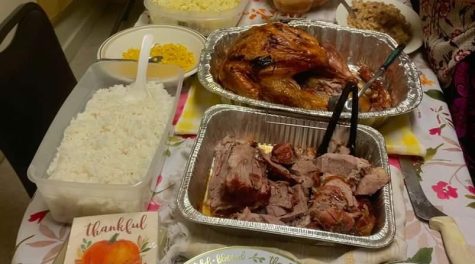 Thanksgiving is on November 24, 2022. Thanksgiving is a national holiday in the United States that is celebrated every fourth Thursday of November. The first Thanksgiving was in 1621 when the Plymouth colonists and Wampanoags shared a harvest feast. It's a holiday where people get together to celebrate and appreciate what they have. Many people think of Thanksgiving as eating turkey, mashed potatoes, pie, etc. and being appreciative of what they have. But some cultures or families may celebrate Thanksgiving differently.
Many people have their own opinions on what is a traditional Thanksgiving. Freshman Priya Zapanta said, "Traditional Thanksgiving celebration for me is when the whole family is gathered around and just enjoying each other's company." This year Zapanta stated, "I'm going to one of my older sisters' houses for dinner and to hang out." She added, "We're having broccoli casserole, turkey, stuffing, mashed potatoes, gravy, and a bunch of other stuff." 
Everyone probably has their favorite and least favorite parts of a holiday. Zapanta said, "My favorite part of Thanksgiving is when we leave. Spending time with everyone is fun and all but it's exhausting." She added by saying, "My least favorite part of Thanksgiving is that everyone is invited, meaning people I'm not in good terms with will be there." 
Junior Thor Bolly said, "My idea of a traditional Thanksgiving celebration is family and friends coming together and bringing their own foods for everyone to enjoy and simply just spending time with each other." For Thanksgiving this year Bolly said, "I'm planning on celebrating Thanksgiving by spending quality time with family as a form of giving and thanks." He added, "My family is planning to cook the usual turkey, barbeque chicken, egg salad, and many cultural foods which are my favorites."
Bolly said, "My favorite part of Thanksgiving is making my food plate because I love food and food is life." He then added, "My least favorite part of Thanksgiving is cleaning up after everybody, especially since Thanksgiving is usually thrown at my place." 
Everybody may celebrate similarly depending on where they live. But when you dig down to your roots and culture, you may celebrate differently.