'Tuesdays With Morrie' shares life's greatest lesson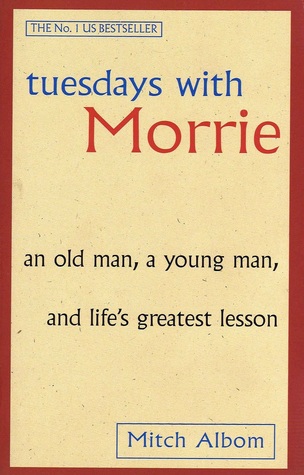 The statement, "Death ends a life, not a relationship," is one of many aphorisms passed down from an old, patient, and wise mentor to his young pupil.
Every Tuesday, Morrie Schwartz, a sociology professor and passionate dancer, teaches his final class about The Meaning of Life. However, this was not an ordinary class. Instead of relying on textbooks, the subject was taught from experience. Although grades were not given, the curriculum revolved around socializing and being a parental figure for Schwartz until his funeral was held in lieu of graduation. This class had only one student: Mitch Albom.
Albom, who graduated from Brandeis University in the city of Waltham, Massachusetts a couple of decades prior to Schwartz's final class, felt guilty for not keeping his promise to stay in touch with his favorite professor.
Burdened by the deaths of family members and the harsh reality of life, Albom decides to reconnect with his former professor 20-years after graduation to discuss life and death. Despite the long-awaited reunion, Schwartz, whose "eyes were more sunken … cheekbones more pronounced … and the sagging cheeks gathered up like curtains," welcomed Albom with open arms and smiled "as if you'd just told him the first joke on earth."
Schwartz reveals that he has amyotrophic lateral sclerosis, or Lou Gehrig's disease, an unforgiving illness of the neurological system which had no known cure. Albom describes ALS and its effect on Schwartz's body as "a lit candle: it melts your nerves and leaves your body a pile of wax." Even though his death was imminent with each passing day, Schwartz decided to teach one last class to enlighten his pupil, Albom, with life's greatest lesson.
"Tuesdays With Morrie" is a candid and profound book, with each page beaming with the warmth of unembarrassed love between a young man and his old mentor.
Reading the book made me feel like I was also a student in Schwartz's final class. I have gained a new perspective on multiple topics in life, including love, family, forgiveness, culture, the fear of aging, and, most importantly, death. I also found humor from Schwartz's frankness, gained a deeper appreciation for my mentors, and felt heartbroken as Schwartz's health conditions worsened and approached death's door.
Out of Schwartz's other loving thoughts essential to his teachings, my favorite aphorism is: "giving is living." Like Schwartz, I feel truly alive when I give to others. I also feel guilty when I take more from others, albeit Schwartz exaggerates that taking from others makes him feel like dying.
Furthermore, in the book's afterword to celebrate the 20th Anniversary of "Tuesdays With Morrie," Albom emphasizes that the aphorism, "giving is living," is more than just a saying. It was "[Schwartz's] philosophy, his raison d'être, maybe even his secret."
The book was also reminiscing about my favorite teacher in middle school. Like Albom, I was a raw, precious jewel who had the potential to be polished into a proud shine through the eyes of my teacher. My teacher's view of me as a gem juxtaposes my personal view of a "living corpse." She encouraged me to view the world on a positive note and overcome my obstacles in life, including my timidness and pessimistic attitude.
In fact, Albom's description of Schwartz as a candle is accurate with my teacher's appearance–they are both old and had pale, saggy skin. Had she not died from a heart attack during the summer of eighth grade, my teacher would have wanted to share the same relationship as Albom and Schwartz. Therefore, I can relate to Albom and understand the guilt he felt when his promise to reconnect with his old professor was overdue. The only exception was that Albom was fortunate to get a second chance, even if it was during Schwartz's last months, while I only had one opportunity with a very limited time period and missed it.
Overall, I recommend this book to people who have wished they had a second chance to reunite with their mentors and receive wisdom for their busy lives. Schwartz's ultimate lesson to cooperate with one another with love and compassion has genuinely touched my heart, and I aspire to be compassionate for others and expose their potential just as my teacher had done for me. "Tuesdays With Morrie" is a sincere and gentle tribute to Schwartz and his invaluable teachings, through which Albom writes a final thesis to share his professor's parting gift with the world.