Bryce Takenaka chooses the perfect lane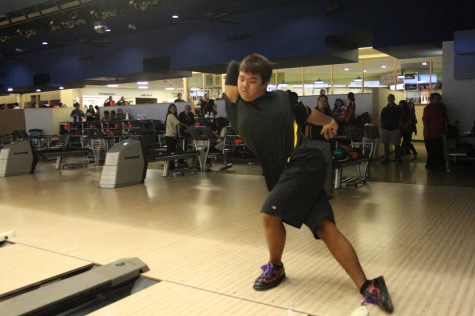 Every journey starts with the first step. For HHSAA Bowling Champion Bryce Takenaka (11), he didn't even think of going down the path of bowling.
"I wasn't very active at first," Takenaka said.
It was only after his grandma persuaded him to participate in her friend's outside bowling league that he got his first taste of what it is to bowl.
 Takenaka said "I tried it out and liked it, so I continued."
Bowling may look easy, but there is much more to it than throwing a heavy ball towards some pins. Takenaka said having a positive mental attitude and staying focused is what he struggles with when he bowls.
Despite these difficulties, he still managed to take first place in the HHSAA Bowling Championship on October 31 on the Big Island. Takenaka didn't think he'd take first place, but he said he was happy.
"I felt good for all my work to pay off," he said. "I was just having fun and enjoying my time at states."
He'll continue to bowl in college. For anybody considering bowling, Takenaka said, "Stay positive even when you're doing bad. Don't give up, and always try your best."