It's NO problem #2
People who visit The Pinion website often might notice all the different slideshows that are featured.
My online co-editor, Lin Song, and I learned how to make slideshows to appeal to our audiences. With the help of Photography students and Newswriting 1 students, we were able to get photos that we later put into a slideshow presentation.
Slideshows are not generally complicated. One simply has to log into SNO and start a new story. Next, upload all the wanted pictures. Do not include them in the story, just make sure that all the pictures are checked on. Fill in the photographer and the caption. Click on the x in the top right corner. Fill in the blanks for headlines and the writer. Click on the type of story the slideshow will fit in. Make it pending publish for adviser Cynthia Reves to look over.
I think that this type of story would appeal to the students who have little time to read any of the other stories. It could also appeal to online visitors who are more interested in images than stories.
It could also help with students who cannot speak or read English well. It could inform them of an event without the limitations of words.
You can check out a few of the already published slideshows:
https://mhspinion.com/sports/2014/08/19/girls-volleyball-classic/
https://mhspinion.com/features/2014/08/28/mckinley-scenery/
https://mhspinion.com/features/2014/08/25/weekend-seaside-view/
Please feel free to share any photos with The Pinion and share your thoughts about our slideshows.
About the Writer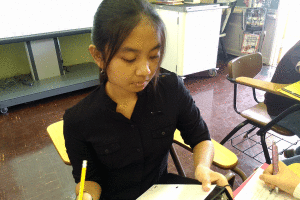 Silvana Bautista, Web Co-Editor
This is her second year being the co-editor of The Pinion.

Silvana Bautista has chosen to focus on being the online editor for The Pinion. This year...