From Philippines to MHS
Hang on for a minute...we're trying to find some more stories you might like.
Mark Dugay is 35 years old and was raised in the Philippines, which is why he is still adjusting to U.S. education policies.
Some of his hobbies include reading, watching television, and playing sports like badminton and table tennis.
Dugay received four years of college education in biology. He had originally planned on becoming a scientific researcher, but instead became a teacher because he enjoys teaching children.
One thing that he would like to tell his students is, "If someone pulls you down, it only means that you are above them."
Freshmen Malachi Iaea and Brycen Lagunero gave further insight on Dugay's style of teaching
"He's a pretty good teacher who cares about his students," Iaea said.
Lagunero said, "Mr. Dugay is a great teacher because he takes the time to explain how things work, instead of just reading from a book."
Although Dugay feels that there are some behavioral issues in his classes, he still enjoys teaching and tries his best to adjust to his students so they can receive the best possible education.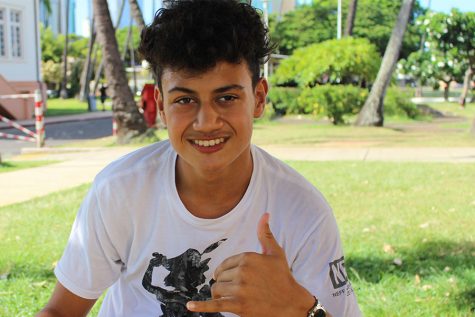 Aidan Sakaio, reporter
This is Aiden Sakaio's first year in Newswriting as a freshman. He went into this class due to his love of writing. Some of his hobbies outside of school...