MHS welcomes back Waterman
Anelalani Chavez, editor-in-chief
April 27, 2018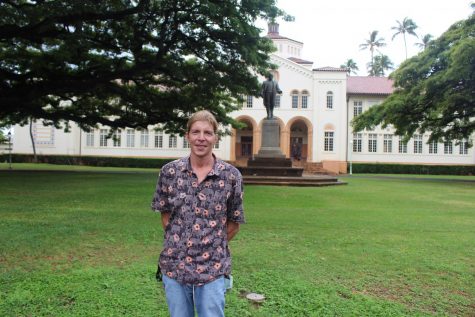 English teacher Jude Waterman recently returned to McKinley High School after a semester. He returned to his hometown in California because his mother is battling cancer and he felt it was important for him to be there for her. He said he loves her very much, and she made him the person he is today. Since his return, Waterman has felt very welcomed and is appreciative of the support he has received from students and faculty. He is especially grateful for the support Principal Ron Okamura has given him.
"Although I was gone McKinley High School and my students were always in my heart," Waterman said.
Waterman has been teaching at MHS for many years and said he enjoys working at what he describes as the best high school in America.
When he was a freshman in high school Waterman knew he wanted to be a teacher due to the inspiring teachers he had. He received his English degree from California State University in Long Beach and his master's in Education from Hawaii Pacific University. After graduating from college he put down roots in Hawaii and so did his twin brother. His brother is an English teacher at Kawananakoa Middle.
Waterman said it's been a great experience teaching alongside his brother
As a teacher, he hopes his students find success and participate in MHS traditions, such as walking across the oval during commencement.
"The pride and tradition at McKinley High School is truly unique and magical," Waterman said.
Much like his favorite author Ernest Hemingway, he himself, found literary success when he had his article published in the March 2007 issue of HawaiiHome. His piece was on an appliance store located in Honolulu known as Lighting Concepts. Waterman is proud of this accomplishment and his students think it's impressive.
"I think its cool that he's been published," junior Evelyn Ramos said.
After being back in the classroom for a few months now, Waterman is looking forward to finishing the school year strong. He hopes his students will find his class fun and enjoyable.
"He teaches us with so much passion and he cares a lot about us and our education," junior Sabrina Williams said.
"I'm thrilled to be back," Waterman said.