McKinley Tiger becomes semifinalist for the National Merit Scholarship
Hang on for a minute...we're trying to find some more stories you might like.
Every year, the National Merit Scholarship Corporation selects students with high PSAT scores as semifinalists for its nationwide academic competition. This year, one of McKinley High School's very own has been named as a semifinalist in recognition of his achievements.
The results were publicly announced on September 12. The Hawaii Department of Education named ten students from the public high schools as semifinalists for the National Merit Scholarship. One of the ten students was senior Jeremy Xu.
"The first I heard about (my results) was when I was at the breakfast line and Ms. (Lorene) Suehiro told me," Xu said. "Then Ms. (Leilani) Okuda called me in, and explained to me further about it."
Over 1.6 million high school juniors took the PSAT last year, automatically entering them into the competition. The highly selective standards of the competition allow only the top 1 percent of the exam takers into the semifinals, being the top scorers of their states. About 16,000 students in the country were named semifinalists.
"Selection varies each year and varies by state," college and career counselor Colleen Inaba said. "This year's selection index for Hawaii was 220."
In order for semifinalists to continue the competition, they must submit an application, providing information like academic records, extracurricular activities, SAT scores, etc.

A press release from the National Merit Scholarship Corporation states, "A Semifinalist must have an outstanding academic record throughout high school, be endorsed and recommended by a high school official, write an essay, and earn SAT scores that confirm the student's earlier performance on the qualifying test."
Xu hopes that he can make it as a finalist for the competition.
"I think my SAT scores were good," Xu said. "I just hope I can get a good teacher recommendation and write a good essay."
About 15,000 semifinalists will advance in the competition. If Xu makes it as a National Merit finalist, he could qualify for opportunities like the $2,500 National Merit Scholarship, various corporate-sponsored Merit Scholarship awards from approximately 230 corporations and businesses that sponsor the competition, and many college-sponsored Merit Scholarship awards from about 180 colleges and universities.
"It's an honor, but it also means I have more work to do now," Xu said. "It's a big responsibility that I'm taking on."
The finalists for the National Merit Scholarship competition will be announced in February.
---
A version of this article also appears, and there may be some differences in content and language.

About the Contributor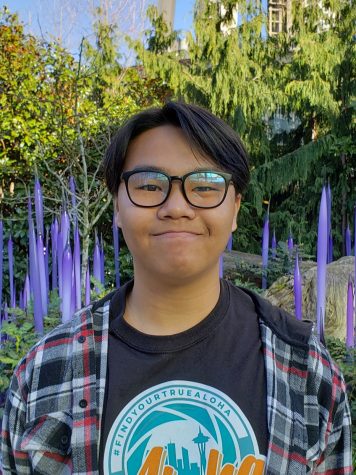 Thompson Wong, design editor
My name is Thompson Wong and I am a senior at McKinley High School. This is my second and last year in newswriting, so I'm dedicated to helping The Pinion...