Future Farmers of America Cultivates Tigers
National club showing effects on Hawaii's students
Hang on for a minute...we're trying to find some more stories you might like.
McKinley High School's Future Farmers of America chapter have just completed their first competition of the school year.
The focus of FFA is to create positive differences in the lives of students by developing the potential of outstanding leadership, personal growth, and career success through agricultural education.
MHS offers FFA for students interested in agriculture, as well as the medical or science field, to develop new skills. FFA remains committed to each individual student, providing them with opportunities to grow. Members of this club volunteer to do community service, interact with other FFA chapters, and compete.
Competitions have multiple categories including Plant Identification, Corsage making, Extemp, Parliamentary procedure, Job Interview, and more career development competitions. McKinley's FFA adviser Shaun Kamida said the club prepares for future careers. "One of our competitions that we do with different schools is a Job Interview where they go ahead and create a resume, cover letter, and get interviewed by HR (human resources) folks in the ag. (agriculture) field. They fill out an application to get the real experience." This makes individuals depend on themselves and discover personal skills. Participating in these leadership events helps them to recognize the value of ethical competition and individual achievement.
Aside from personal development, FFA chapters focus on community service. Volunteer opportunities give members a chance to view the larger picture of how agriculture is important to individuals as well as our state. Senior and four-year member of FFA, Earl Ravelo said that he has participated in many community service projects, including building picnic tables and plant beds at the Kahauiki Homeless Village.
Ravelo said,"I have learned to be a good role model to people as well as taking responsibility of my actions and helping the agriculture environment and giving back to the community."
FFA influences members to think more of others, as well as our state's well-being. Members are reminded to focus on how to become more self-sustainable and how to treat our environment which is a positive thing for our future. Activities provide an entertaining way to give back and bond with other members of the organization.
Future Farmers of America teaches students across the nation responsibility and helps them experience new things. Leadership conferences and conventions give students the chance to mingle with each other in an encouraging setting. Ravelo says that when he attended FFA conventions he enjoyed learning about other students from different islands and how they provide service acts to their community. Kamida says that a state convention was his own favorite event, "it's a three-day thing where we get to meet all the other state chapters, the students go out to do a combined community service project, especially the one we did in Hilo, we went to the Hilo zoo." The club has traveled to Kauai, Hilo, and Washington D.C. for events and continues to participate in competitions and conferences on the island.
The emphasis of these values on students creates a positive impact that Tigers will exert in their homes, school and community. It provides a group for students to bond with peers and expand their education with hands-on experience. Future Farmers of America benefits the members and coordinators involved by strengthening personal skills and the agricultural developments of our nation. McKinley high schools FFA chapter is an inviting club that teaches students to embrace community and the well-being of the environment.
About the Writer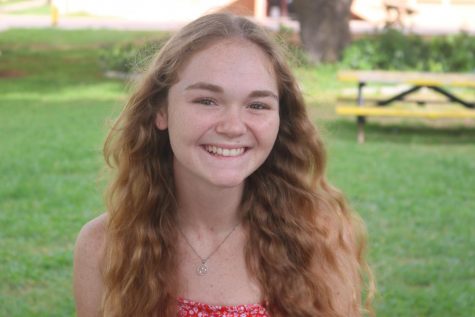 Amoreena Godoy, reporter
Hey I'm Amoreena Godoy and I'm a senior at McKinley High. This is my first year as a Pinion reporter and I am excited to be a voice for McKinley Tigers....