Hahn's 'UnEnchanted' visits the curse of the Grimm family
Mina Grime lives a pretty normal life. She goes to school, hangs out with her best friend and watches her crush from afar. However, her life turns upside down when she gets publicity for saving a her crush's life!
Her unwanted attention brings out a secret that has cursed her family for generations. She is actually a descendent of the Grimm brothers. Faery tales are real and her family has been stalked by them for years.
So far, the series has four books: UnEnchanted, Fairest, Fable and Reign. The fifth book is scheduled for release in the summer of 2015.
This series has kept me hooked since I read the first one two years ago. Mina develops into a strong and admirable character as the story develops. Some parts made me smile while other parts made me frustrated. The series is ultimately enjoyable.
About the Writer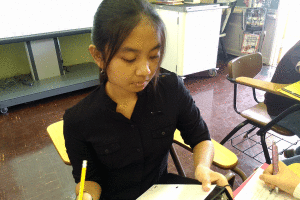 Silvana Bautista, Web Co-Editor
This is her second year being the co-editor of The Pinion.

Silvana Bautista has chosen to focus on being the online editor for The Pinion. This year...