Sales stay low regardless of advertisements
Tiger Locker plans to advertise for the rest of the school year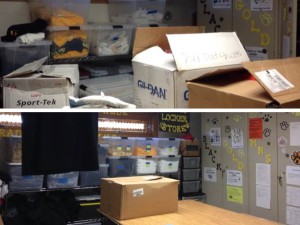 Tiger Locker continues to advertise in hopes of attracting more customers. In February, the store held a selfie activity to promote their sale items. Students who take selfies while wearing or holding something they bought from Tiger Locker could end up in the store's catalog.
Senior Jeremy Tongpalan is in charge of the Tiger Locker and he hopes that the activity would let the store be better known in the school. He said that his goal is to have the catalog on the school website with students athletes, government and selfie activity winners modeling the different merchandise.
The turnout of participants, however, was less than Tongpalan expected.
"I'm unhappy with the turnout of the students submitting selfies," Tongpalan said.
He said that it is possibly because of students' lack of interest or a result of students not paying attention to the advertisements.
Senior Emily Phan said she participated "for fun, showing school pride and to win."
She was disappointed by small amount of participation as well.
"It's sad because being involved in school makes the experience [of high school] exciting," Phan said.
Phan is now a worker on Monday. Phan said that Tongpalan is a good friend and that working at Tiger Locker would broaden her experience, especially since school is coming to an end. She said that working with people she knows eases her nerves a lot.
In addition to the selfie activity, the Tiger Locker has weekly sales. Jeremy Tongpalan said that weekly sales will continue until the end of the year.
"I thought it would bring in more customers and that customers would like the sales," Tongpalan said.
Phan said that it's a great idea since "students don't always have money to spend."
The sales increased the amount of customers but it was not notable.
Monday worker Mac Bautista said, "Although Tiger Locker made an effort to increase sales by creating discounts, I saw no outstanding changes to our revenue."
In the previous Tiger Locker article, (click here to read it), said that Mondays were the slowest days.
Phan said, "I understand that it's slow [on Mondays] because people are tired from the weekend."
Bautista said, "On Mondays, we get one or two customers on average and when the discounts were announced, the trend did not increase. In fact, on one of those days, we weren't able to attract any customers."
Nevertheless, Tongpalan will continue to post advertisements in different ways. He said that he plans to include more sales and a commercial.
Tiger Locker plans to have a sophomore take over the responsibilities when Tongpalan graduates. Tiger Locker will remain open for the rest of the school year.
About the Contributor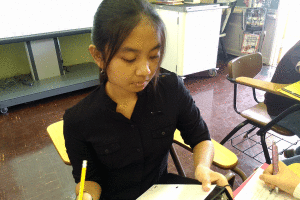 Silvana Bautista, Web Co-Editor
This is her second year being the co-editor of The Pinion.

Silvana Bautista has chosen to focus on being the online editor for The Pinion. This year...