McKinley celebrates commencement during pandemic
On May 24, McKinley High School had a modified graduation ceremony to give seniors a graduation experience while obeying coronavirus safety guidelines. There was a virtual ceremony from 9:30 to 10:00 a.m., after which seniors could come on campus during their assigned hour to cross the oval. Students were required to wear masks and observe social distancing. 
Cars first lined up on Pensacola. As they turned into campus, staff checked them in. Cars went either ewa or diamond head of the auditorium. Then, the seniors got out of the car and went into the auditorium. Inside, they received a medallion and had their picture taken professionally. Obeying social distancing, they exited out the front door of the auditorium, two at a time, to cross the oval. After crossing, their picture was taken and they got back in the car. Cars then drove past cheering alumni as the graduate was given a goody bag as they left campus.
Senior Rianna Jones-Ichiuo felt sad about the changes to a traditional graduation but also loved some parts of the experience.
"Standing in the auditorium knowing some of us will never see each other again, all I could think of was that this was our last moment together," Jones-Ichiuo said. "But having some of my favorite teachers for the past four years cheering me on and even strangers on the street congratulating me was amazing."
Senior Jason Cao found the graduation to be a weird experience because of all the guidelines put in place for attendees.
"It was a bit different because only the graduate was able to go outside the car, [you had to] practice social distancing… you were not allowed to have friends lei you in school" (many students did this on their own at home).
Senior Keoni Martin was surprised at how much planning had gone into the graduation. He said that being able to see his teachers and McKinley alumni made it a very memorable experience.
"Overall, I was surprised to see how much thought and effort the school put in to make this graduation successful, including the decorations, sign wavers, and picture taking. It put a smile on my face to be able to see some of my past teachers and alumni as the ceremony went by, which made this graduation special," Martin said.
Martin also said that even though the graduation wasn't what it would have been, the memories he's made at McKinley will still be there.
"Our graduation was different from what we wanted, but it was ours. Not being able to see everyone one last time was tough, but the memories we all made together for four years is something that will always be cherished."
Principal Ron Okamura spoke to seniors during the virtual graduation. He said that the changes to normal life had made everyone stronger, and told the seniors that they were now in a much larger community of alumni.
"Now you've joined a bigger community of McKinley alumni; you not only represent the school, but you represent a bigger community of McKinley Tigers… Take that pride and tradition from our school and take it to the community and you will join the thousands of other graduates that have walked through these halls and crossed the oval," Okamura said.
(Due to the threat of coronavirus, no student journalists attended and took pictures at graduation. Adviser Cindy Reves did it.)
About the Contributor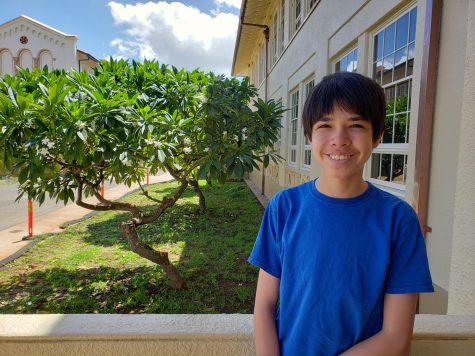 Ryan Vanairsdale, editor
I'm Ryan Vanairsdale, an editor for The Pinion. I originally chose newswriting in 9th grade because I liked the class in middle school. I also liked writing...