Looking back on high school track star Christopher Martin
Martin instructs on and off the field
It was 1990. Christopher Martin was a high school track star, getting attention in his local paper.
"'He was ready to go,' said Wheaton North hurdle coach Don Helberg. 'He wanted to double-dip that York kid. Chris rose to the occasion.' Martin says the weather didn't bother him at all. 'I think it's (the rain) great,' Martin said. I let the rain psyche me up.'" wrote Craig Cole, Daily Herald Sports Writer.
Today, English teacher and track coach, Martin instructs students in the classroom and on the track using his own knowledge and experiences. He has coached track at McKinley for five years and also coached at Kaimuki High School for seven years. Martin ran track for one year in middle school, four years in high school and four years in college.
Martin said he still enjoys running but doesn't run often anymore. In his free time, he finds less strenuous pastimes.
"Now  I swim 'cause it's a lot less impact on the legs. I surf, swim, hang out with my daughter, do stuff with her outside,"  he said.
After years of running track himself, Martin said he does not miss running because he likes to imagine he is still able to run as he did at 19 or 20 years old. He now uses his skills and experience to help others.
"I've been told I'm a lot meaner out on the track, a little more strict, but I think that's important because it's extracurricular. I think we have to. I have to have a few rules," Martin said.
His main goal is to help people improve.
"I'm there to help people get wherever they need to go," he said.
Martin said he tries to talk with each team member to set at least one goal for themselves at the beginning of the year to challenge themselves to improve over the season.
"I try to make workouts that will help them improve at the ability level they are at now 'cause not every runner is gonna be running 50 seconds in a 400-meter dash, but everybody can improve so try to get something that pushes them beyond what they did at the beginning of the season," he said.
Martin said he enjoys watching the sport and working with the teenagers since they contain many possibilities and lots of hope for the future.
"Seeing a kid, especially if they come out their freshman year, and then they run four years, I really enjoy seeing that kid do what they did the first year and then just develop and develop," he said.
Martin said he appreciates the growth of his runners even if they don't win races. He wants the team to see that they have improved over the year and hopes they have fun throughout the season.
"For Narayan, he's been at states already two years in a row. I want him to win states; that's my goal for him. But for other students, it's just, have fun, enjoy yourself out on the field." he said.
Being a former track star himself helps Martin to push the team to do more than they thought they could. Senior Dustin Kaneshiro has run track throughout all four years of high school and feels that Coach Martin has helped him to individually improve.
Kaneshiro said he enjoys having Martin as a coach.
"He wants you to succeed," Kaneshiro said.
He described Martin as caring, hardworking and dedicated.
"Most of all I just like to see kids be successful," Martin said,  "find something, whatever success is their success. That's what I enjoy seeing. You know, maybe they've improved like a second or they're still getting dead last, who cares? They've improved and they're happy. That's what I like seeing."
About the Writer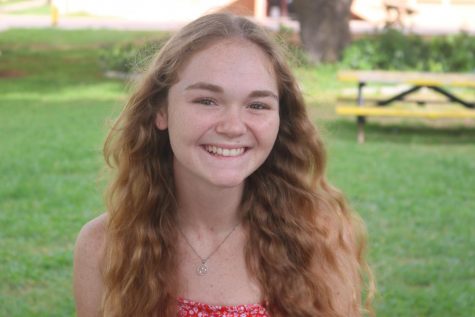 Amoreena Godoy, reporter
Hey I'm Amoreena Godoy and I'm a senior at McKinley High. This is my first year as a Pinion reporter and I am excited to be a voice for McKinley Tigers....