JROTC: Celebrating 100 Years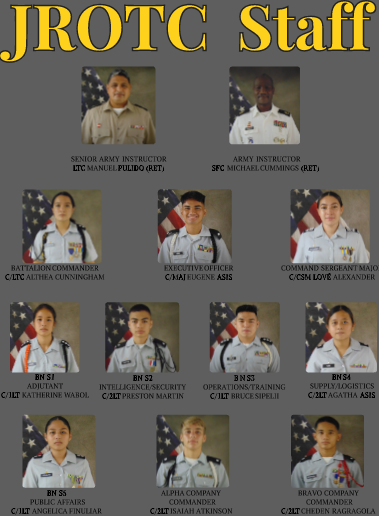 McKinley High School's JROTC program is the oldest public school unit in Hawaii. The 2021-2022 school year marks one hundred years since the first established unit and the McKinley JROTC staff and cadets keep the program functioning.

 "One hundred years is something special. There's a lot history to be one of the oldest schools," Army Instructor Sergeant First Class Micheal Cummings said.
Some people think that JROTC just teaches students to be soldiers and makes them join the military. This is not true. Many cadets do have aspirations to serve in the military, and recruiters visit to pitch their branches, but students are under no obligation to join the military. The program's actual mission is to "motivate students to be better citizens." This is one of the first things a cadet learns.
"We do not recruit people to go into the military. Even though that goes around, that's not even true. We treat each other like family," Junior Cadet Captain Bruce Sipelili said.
JROTC is primarily run by the cadets. The staff officers organize and execute everything from cleanup, to drill meets, team competitions, and helping out with school events. Current cadet staff officers are students who've taken JROTC at least two years in a row and actively participate in events. The instructors provide the information, supplies, and guidance the staff needs to get things done.
"You go and grow up and do the stuff that you just do for your future, but it gives the purposes to take care of myself," Senior Cadet Sergeant Major Lové Alexander.
Lieutenant Colonel Manuel Pulido is the Senior Army Instructor who teaches second and third-year cadets. Sergeant Cummings is the Army Instructor who teaches first and four-year cadets. "We don't give you discipline, we help you to show the discipline that you have. It's all about bringing the best of you to the forefront," SFC Cummings said.
Pulido graduated from McKinley in 1990 and served thirty years in the Army. He became a JROTC instructor to help Hawaii's youth and community. He also wants to give back the opportunities that the program has given him.

 "I absolutely love it here. It is unbelievably amazing returning to McKinley and being a part of the Pride and Tradition once again. I feel like I have come full circle and this is where I belong," LTC Pulido said.
SFC Cummings has been an instructor on the mainland for ten years now. He enjoys pouring knowledge into future leaders and guiding them on their path. He has twenty years of military service, and being an instructor allows him to continue to serve.
"It's something greater than myself. It's my way of giving back what was given to me," SFC Cummings said.
The staff is a small number of people compared to the battalion. Without the participation of the cadets, there would be no point in the planning and organizing that the officers do. Besides wearing their uniform, helping out with events and inspections, cadets can join teams that challenge their physical fitness and mental discipline. These teams get the opportunity to represent McKinley JROTC in competitions with other schools' teams.
"I'm on the Rangers team. We do lots of physical exercises and tying knots. It's given me a sense of fulfillment. Yeah, like it makes me happy to work out and to take care of myself," Cadet CSM Alexander said.
If things go well regarding the pandemic, the Battalion plans to celebrate the centennial with a parade and invite alumni. They also plan on bringing back a scrap-booking tradition that got interrupted by COVID-19. Even after one hundred years, cadets keep the traditions and programs alive, so the next generation can learn and grow as well.
"Believe in yourself – every goal can be achieved if you are dedicated and work hard towards them," LTC Pulido said.