School Resumes In Person As Delta Variant Rages
As students return to in-person learning amidst the highly contagious delta variant surge, students and staff are potentially being exposed to COVID-19 on campus. Although McKinley High School implements the four core mitigating strategies of vaccination, staying home when sick, correct and consistent masking indoors and outdoors, and following respiratory etiquette, some still feel anxious.
Student body government secretary Sofia Koutouzos said, "We're all crammed in there. There's like thirty of us in small classrooms, and it's kind of scary." Koutouzos suggests to limit the number of kids in the classroom or to space them out.
"I'm a little nervous about it (delta variant) because the infectious cases are going up pretty fast. It's a little concerning because the delta variant is spreading around to even kids our age," said senior Jolie Tajon.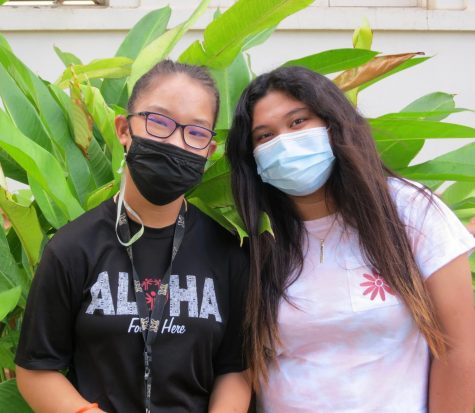 "
Classrooms should have more air circulation and to have the students be physically distanced apart from each other while eating.
— Junior Kaylee Osaki
Junior Zaniel Ortega said a lot of his peers are too close to each other, which he feels compromises the health and safety for students, faculty and staff. He said open space and no contact should be enforced.
However, the Department of Health does not list physical distancing as an essential strategy since it is not practical in all school settings and, therefore, safety is always a risk for students and staff, who cannot always follow the requirements.
Principal Ron Okamura said social distancing in the classroom can't always be 100% certain that every student is going to be the same length away from each other.
"I wish we could do a whole lot more but, unfortunately, you know, with what we have, the amount of students and the amount of classroom space that we have today, it's adequate enough to keep us as safe as possible," Okamura said.
Okamura said pandemic safety has many layers, such as keeping students' bodies healthy, knowing how to serve lunch, and how to separate the students and is becoming more challenging. He is trying to keep everybody safe and to keep operations of the school as normal as possible.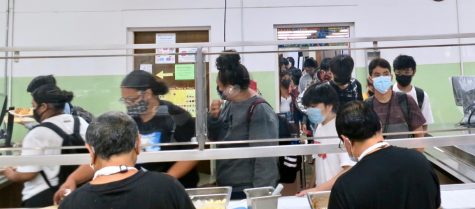 Freshman Sean Lester Serrano prefers to follow the previous Center for Disease Control and Protection guidance for COVID-19 prevention to be physically distancing six feet apart instead of three feet.
Sophomore Kaitlyn Vo said, "I would recommend more tables or opening the tables by the cafeteria." She also said there are too many people in the hallway. "We always bump into each other." Vo said she thinks not enough is being done to stop the spread of COVID-19.
Junior Amira Areola echoed Vo's concern about overcrowding and commented that students should be allowed to eat in their teachers' classrooms.
Junior Kaylee Osaki added that the classrooms should have more air circulation and that students should be physically distanced more from each other while eating.
LoRheba Josiah, a special education teacher, worries that some students believe that getting the shot isn't needed, despite the fact that the FDA approved the Pfizer and Moderna COVID-19 vaccines and the advancement of the COVID-19 vaccination percentages of the school population twelve years of age and older as one of the most fundamental strategies to help preserving in-person learning.
In September, the CDC reported the vaccine doesn't prevent COVID-19 infection, but those who are vaccinated are less likely to develop serious illness, hospitalization, or to die compared to people who are not vaccinated.
Jason Yadao, algebra II and health teacher, said he felt disappointed when the spike in COVID-19 cases occurred.
Osaki feels bad for the hospitals and patients. The governor signed an executive order in September providing immunity to health care facilities from liability when deciding upon rationing critical care.
For Osaki, a school shutdown would keep the community safe.
Ortega said shutting down the school is the best way to keep the safety of the students. He said a shutdown will prevent the transmission of COVID-19 from skyrocketing.
Sophomore Ruo Xin He was 100% virtual learning her freshman year.
"As more numbers go up, I think parents will want them (their child) to be distance learners," she said.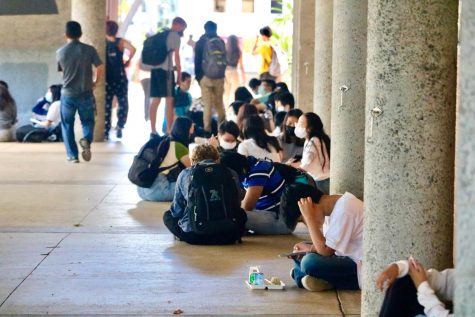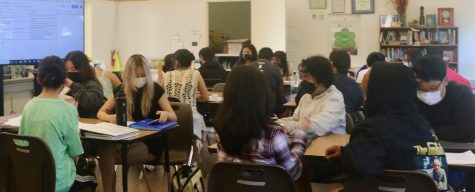 Yadao agrees with He and said he thinks there might be a time during the school year when we have to shut down the school for the safety of the school.
"I think it comes to how many students are at risk. Eventually there's going to be less of a point teaching if a majority of my classes are absent," Yadao said. "And at that point, you know, it will be better to teach online than it is to teach in person."
Josiah expects there would be an improvement for the rest of the school year if a shutdown happens.
"We could nip it (infection rate) in the bud now before the school year continues on," Josiah said.
The Department of Education distance learning plan provides online classes for students with underlying medical conditions and parents who don't feel comfortable sending their child to campus. The classes are supervised by the statewide DOE rather than individual schools. However, the classes are only for students in fifth grade or higher and are available to about thirty students per grade.
"Online learning was really hard because no one was there to help you and you couldn't understand anyone," Areola said.
Yadao said, "One of the most awful things about the year 2020, was how the pandemic really destroyed the line between work at home." Yadao had to adjust his teaching practice after over a year of virtual learning. He had to make accommodations by giving additional time for his students to complete their work since most of them learned on their own with online instruction.
Josiah offers online activities for the students to adjust back to normalcy.
Serrano said he worried about computer problems during distant learning. He said returning to 100% in-person learning is a relief, and he enjoys socializing with his peers from a distance.
Ortega said being in school and seeing his friends for him is a relief.
"I get to see my friends and I honestly like in-person learning way better than distance learning. It just feels way better," Ortega said.
"
I just would like the school year to be as normal as possible. For example, to be able to attend prom and other events.
— Senior Eugene Asis
Student Body Government President Aniqua Mehdi said she plans to continue to post and to engage with the student body on Instagram to implement creative events such as a virtual party.
"We're really trying our best to provide a good experience for everybody, but a lot of the time it (events) gets pushed to online or virtual due to the spike in COVID-19 cases," Koutouzos said. The first week of school, student government had to modify the in-person Welcome Back Assembly by streaming it during 20/20 period.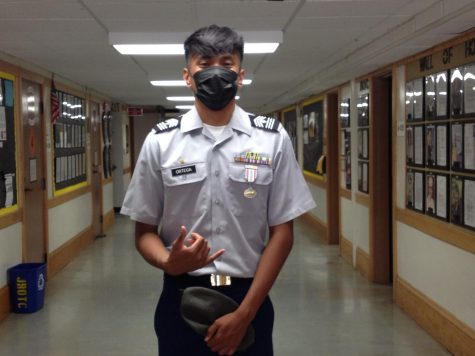 Governor David Ige told the Star Advertiser in September that there won't be another full-scale shutdown, stating that restrictions will be implemented such as curfews or further reductions in the size of social gatherings.
Tajon said the pandemic has changed people both in good and bad ways
"I think, as humans, we definitely need some social interaction. Being in a pandemic and having to quarantine or going into lockdown has definitely done some damage. There's a little bit of negative side effects. But it has also helped some people grow. So I think there's benefits," Tajon said. "We need the support to keep going."
Senior Eugene Asis said he would like the school year to be like the pre-pandemic years so he encourages students to get their vaccine.
"I just would like the school year to be as normal as possible. For example, to be able to attend prom and other events," Asis said.
Tajon complimented the teachers for keeping the school safe and said the rise in cases are preventable with enforced guidelines.
"I think they're doing a really good job following the guidelines and making sure that we set those boundaries to keep everybody safe," Tajon said, "I think as long as we keep up this mask mandate and keep them social distancing, I think we'll be okay."
Mehdi praised the school for being safe and said the school should continue social distancing.
"I think the school is doing a good job of making sure students are distancing themselves, and keeping their masks on," Mehdi said. "So I would just continue, and make sure there's a good support system around the students because, really, COVID-19 has brought a lot of students down."