Coach Kale Awakens the Tigers
*This article placed 3rd in NonFiction Storytelling in the 2023 Hawaii High School Journalism Awards.
For the last two years, Charles Ane the Third, called Coach Kale by his players, has been reshaping McKinley High School's football team to its former glory. With six years in the NFL and 20 years as a football coach and athletic director at Punahou, McKinley's football team has one truly experienced coach.
Coach Kale's father was also in the NFL. Coach Kale has strived to be a football player just like his father since early in his career. Coach Kale was guided by his father to pursue his goal as a football player and would, later on, play for the Kansas City Chiefs and the Green Bay Packers.
"He didn't push me, but he helped guide me, which is kinda what I like to continue to do with these kids," Coach Kale said.
To him, his father's guidance as a role model has influenced how he coaches his players. Coach Kale recalls the good and the bad of being coached. His son, Tee Tai Ane, who coaches McKinley's offensive line, said his father doesn't integrate strategies he didn't enjoy as a player.
"He doesn't like to be yelled at, so he doesn't yell at people. He doesn't like whistles, so he doesn't have a whistle on the field." Tee Tai said. "He remembers what he felt like when he went through certain situations and tries to accommodate others."
Sophomore Mathias Mafi said Coach Kale does not discipline them but corrects them in a gentle way. He said Coach Kale treats the team with respect and tells the players the honest truth. To Mafi, Coach Kale is a great educator and a great teacher.
"He says things that touch you emotionally and mentally. If you don't understand something, he tells you in depth. It really strengthens the team," Mafi said.
Being at McKinley for only two years, Coach Kale is still in a transitional phase where the players have to build trust with him. He needs the players to share with him any problems they are having, be they school, community, or football-related, to build trust. Coach Kale also said the team is trying to create a culture where everyone works hard every day, goes to their class, and is responsible.
"It takes time to establish the rapport and to establish those kinds of relations," Coach Kale said. "The biggest part of coaching is to connect to the players and to connect to the staff. When they celebrate I celebrate, when they're hurting I'm hurting. That's what I think makes coaching special."
Sophomore Alati Kata said that most of the team, especially the returning players, are closely bonded with Coach Kale. To Kata, Coach Kale is almost like an older uncle who will help him and the players to get to college after high school or to the NFL with all the connections he has. Senior Lotupo Moafanua said he told Coach Kale his dream was to be in the NFL. With Coach Kale's connections to colleges, coaches from different schools came over during practice to see the whole team.
"If it wasn't for him, these coaches wouldn't be here. I got a lot of offers because of him and he is a huge impact on my life," Moafanua said.
As the season progresses, Coach Kale believes the team is growing and is going to get better. Mafi said the team is like a snowball effect.
"Once something good happens, they keep rolling," he said.
Coach Kale said the team participated in off-season conditioning to show if they are committed to the program, to the coach, and to themselves. Last year, the team didn't have much success as a program. Coach Kale explained that the players must start thinking they can compete against other schools. He also thinks they are much better than they think.
"They just have to have some faith and be consistent," he said.
Moafanua said, "The team is getting better just because he is here. He is making a lot of difference. He makes sure you shine on the field. He doesn't want you to sit in the corner and don't know what to do. He wants you to shine; he wants you to succeed."
Coach Kale said the team would come back to the campus after the game to talk. They primarily focus on the effort, the attitude, and what they could have done differently, sharing what they could have done more effectively.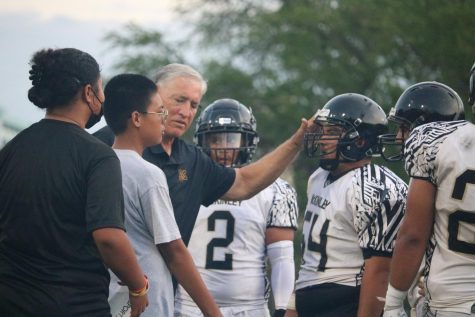 "After the game is the ideal time where the players get to share their own experience, even going up to speak to the team," Coach Kale said.
At the end of the day, Coach Kale said their main goal is to grow as a team, learn from the experience, and have fun. Coach Kale said their focus is to make the players' families, the school, and everybody proud, not only with the football team but with the school.
"We want these guys to come to volleyball games, come to basketball games, come to baseball games and support everyone as well," said Coach Kale. "Once we get that going, McKinley is a sleeping tiger. It is there, we just have to get it going and it's going to be great."