Litter epidemic invading campus should be maintained
How big of an issue is littering, both on campus and in the world?
An Vo, reporter
November 18, 2019
Hang on for a minute...we're trying to find some more stories you might like.
There is a problem with littering on and out of our campus and it should be stopped. It's not so hard to find a garbage can to dispose your trash. This is a worldwide epidemic that should be stopped if we want to keep the earth healthy. In order to achieve this vision, everyone must contribute by disposing their trash properly. The school should also buy more trash bins inside and outside of campus.
Why do people litter? People may have different reasons for their wrongdoing. According to "What is Littering?" by the founder of Conserve Energy Future, the unavailability of trash containers or simply becoming too lazy to hunt for one is an obstacle to many. It would be best to be responsible and hold onto your trash until you can locate a container for the debris. Don't resort to littering.
Littering also against the law. As mentioned in "Littering Facts and Statistics," most people are unaware that littering is an illegal act that will result in facing charges in most localities.
According to "Hawaii's Litter Laws," being caught littering will result in four or more hours of community service. It can also damage your economy status as the penalty for littering is to pay a fine that ranges from $100-500. It's better to use common sense and to dispose your trash properly than to violate the rule and pay fines.
Creatures have been endangered and harmed because of littering. Animals are attracted to scattered debris which may lead to incidents such as wrapped limbs or indigestible foreign objects.
Imagine the world with more landfills, plots of land that are filled with mountains of trash, than buildings and amenities. Everything would be gruesome because our sense of smell would explode due to the unpleasant aroma. We can prevent this catastrophe from becoming the future of humanity by being conscientious about what we throw away and how we throw it away.
In addition, living organisms such as plants and animals in their ecosystems will deteriorate from the methane and harmful chemicals emitted from burnt trash. We burn unwanted waste that releases ash and damaging chemicals.
People will become ill by overheating because of trapped sunlight in the atmosphere caused by green-house gases: air produced by burning fuels such as gas and fossils. This is the result of littering. It acts as an obstacle to absorb and conserve thermal energy which is the main cause of climate change.
As mentioned in "Ending the Epidemic of Littering" by Alayna Caricofe — if we ignore our issues, then it will keep expanding until it becomes complex to resolve. We should take care of the epidemic as swiftly as we can so it doesn't affect everyday lives.
According to "Hawaii's beloved beaches are covered in huge amounts of plastic, survey finds," it states "Plastic pollution in the oceans is a rising concern among environmentalists because of the serious harm it can cause to marine organisms. Plastic debris is frequently found tangled up in the stomachs of birds who mistook it for food or wrapped around the bodies of drowned sea turtles and other swimming animals." In other words, trash left in open space makes animals and plants sick.
It also states "…plastic obviously carries no nutritional value for the animals who eat it — but certain types of plastics are also known to pick up other types of chemical contaminants in the water, making them especially toxic."
If we don't stop the littering epidemic, then environments such as the ocean and the air will become polluted with unwanted chemicals which will result in the endangerment of animals or society.
Solutions
Fortunately, there are many viable solutions to promote campus cleanliness. Ever heard of the three R's: "reduce, reuse, recycle?" One way to contribute is to organize your waste so it can be suitable for the three R's.
First of all, contributing by doing something as simple such as organizing junk by separating your trash based on what they are made of will help reduce unwanted chemicals and bacteria from thriving in our oxygen, as it separates recyclables and reduces waste which will eventually be burned or sent to landfills.
It's irresponsible to litter and expect your refuse to automatically transform into compost. People wouldn't want to step in rotten fruits or plastic when they walk on campus.
Although compost is a natural resource to improve the growth of plants, it would be more efficient to use a compost bin. Littering organic products such as fruit peels doesn't automatically mean that they will compost. They would need assistance from a compost bin to decompose and mix in with other compostable materials (paper, plants, food scraps).
Next, the school can also provide assistance to campus cleanliness. Our trash cans and dumpsters are often full and there's nowhere else nearby where they can dispose their junk. To solve this issue, the school should purchase more garbage, recycling, and compost bins for the community. Primarily outside the campus as there aren't enough local trash cans for people walking around to deposit their garbage.
Finally, there hasn't been a lot of trash bins outside of campus. People are littering from the outside into the school campus because there aren't enough places to throw away the trash.
Without a compost bin, there would be flies that thrive on the scraps which may carry unwanted bacteria and spread it to make people sick.
All in all, improvements can be made within the school. Such as placing more garbage and recycling bins around campus. We should treat the campus as a part of our ohana to ensure that the world is a clean and safe place and think more about the environment and how it impacts everyday lives. I believe everyone deserves the right to live in a healthy environment. To learn more ways to reduce trash, click here.
About the Contributor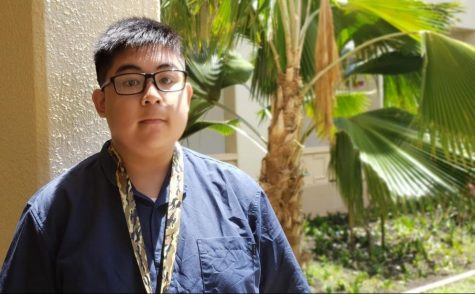 An Vo, reporter
My name is An Vo, and I'm a freshman reporter for The Pinion. During my free time, I usually practice the flute to better myself as a musician in the McKinley...