Using social media the way you want
Hang on for a minute...we're trying to find some more stories you might like.
Social media is popular among teenagers and adults. Its purpose differs for each person.
Senior Tyler Momohara said he uses social media to talk to others and spread news.
Momohara said social media represents freedom because on social media people can say how they feel when they feel as if talking face-to-face is impossible.
Momohara has Instagram, Facebook, Twitter and Snapchat.
"That's how I contact my friends. That's how I see what's going on with people and that's how I get to know people by seeing their posts," Matsumoto said.
Senior Kyla Idouchi also uses social media to stay connected to the world.
"I have them to see what other people are doing and to keep in contact with friends," Idouchi said.
Despite its advantages, social media has been criticized for the chances of harmful incidents.
"My biggest rule is not to make other people feel uncomfortable by my posts," Matsumoto said.
Momohara added it is also important "to have proper grammar and make sure you have common sense." He also said
he does not use social media in class unless it has to do with school.
Idouchi said she has no rules for posting on any accounts and she has never been flagged on social media. She considers all her posts to be appropriate.

About the Writer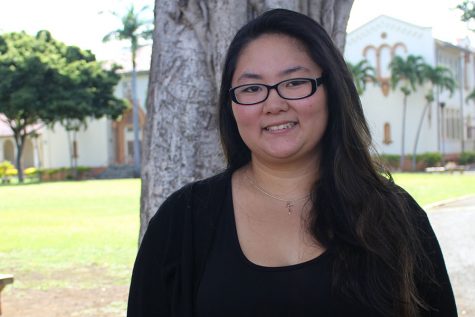 Lacey Hayashi, reporter
Lacey Hayashi is a senior who transfered from Roosevelt. She is in her first year of Newswriting and so far she likes it. She said that she feels as if...