Officer Kalama recognized for sacrifice
Students and staff gathered at McKinley High School's gym on Jan. 31 to pay tribute to Officer Kaulike Kalama.
Hawaii lost two of its finest police officers in a shooting during a call on Jan. 19, one of which was a fellow McKinley graduate from the class of 2003. Senior Regina Nguyen, student body president, said Kalama was a McKinley Tiger who was known at McKinley for being a linebacker for the football team and a canoe paddler for the paddling team.
"As one of the football captains, he was a very quiet person but a respected leader," Nguyen said. "He had a very humble heart that touched every individual that he had met. He always wanted to give back to the community, which is why he joined the police force."
Leilani Okuda, this year's Hall of Honor inductee, said she wanted to send her condolences to the Kalama family.
"Kaulike was a student of mine and I'm honored and humbled to say that I was his teacher," she said.
Senior Regina Nguyen, student body president, said Kalama paid the ultimate sacrifice for the protection of the people of Honolulu after he served the Honolulu Police Department for nine years.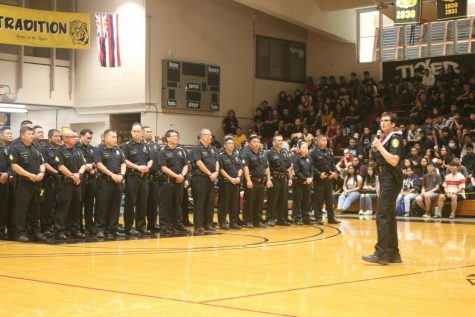 To honor Kalama, a song was sung and played by the City Boys.
Kalama's colleagues and family came to the assembly to honor the late officer.
"At this time, I would also like to welcome members of the Honolulu Police Department and Chief of Police, Susan Ballard, who made us so honored to have her today to help us pay tribute to Officer Kaulike Kalama," Nguyen said.
Kalama worked for Ballard for four or five years at the Central Receiving Division.
Ballard said Kalama was a quiet leader.
"Thank you guys so much for doing this for KK," she said. "We didn't really know him as 'Kaulike.' It was just KK to us… When you first met him, he looked like he was all serious, but the minute he smiled, it lit up the room," she said. "One of the things about KK was he was also a prankster."
Ballard said one of Kalama's friends was afraid of spiders. "There was a cane spider in CRD, so KK was able to kill the spider but still chase the officer around with the spider in the cup and it was recorded for posterity," she said.
Ballard said Kalama took his duties as an officer seriously when an officer needed help.
"When he left the desk, he went to District Seven where he was an absolutely phenomenal officer," she said.
"On that tragic day, what was occurring was not even in his district but KK without even hesitating, responded because he heard an officer was in trouble. He took the lead to go and help that officer."
Unfortunately, Kalama paid the ultimate sacrifice and he too was killed. Ballard said she appreciates McKinley for having Kalama as a student.
"It is a huge loss for us, for both officers, but I do appreciate the outpouring of all the things that this community has done, [especially to] you at McKinley because he was a proud graduate of McKinley," she said. "He was one of the 2003 paddling team where they won the championship and of course playing football and I can see him playing football. He would probably scare people by giving them the stare."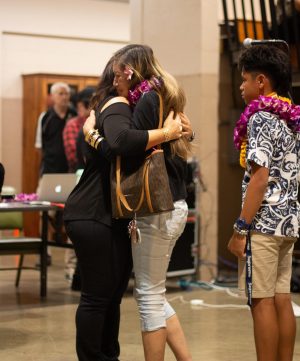 "[When] Chief of Police, Susan Ballard, said 'He paid the ultimate sacrifice,' that made me cry," sophomore Ronya Malae said. "We wake up never knowing what's going to happen that day, and I thought, Officer Kalama would have never thought that day would be his last. I am proud of what our school did to honor his name, family, and legacy."
Sophomore trombonist Ronya Malae said the assembly was impactful because the school honored an officer who passed away.
"We honored slain Officer Kaulike Kalama and remained respectful while Police Chief Ballard spoke of him and how he was a model citizen," she said.
Nguyen said Kalama's service and dedication in the Honolulu Police Department will not be forgotten.
"A special thanks to the Kalama Family for coming out and being here with us today," she said. "Please know that his life serves as an inspiration to all McKinley Tigers to live life with honor, integrity, and service."
The City Boys were reintroduced and sang another song to pay tribute to Kalama.