Inouye visits McKinley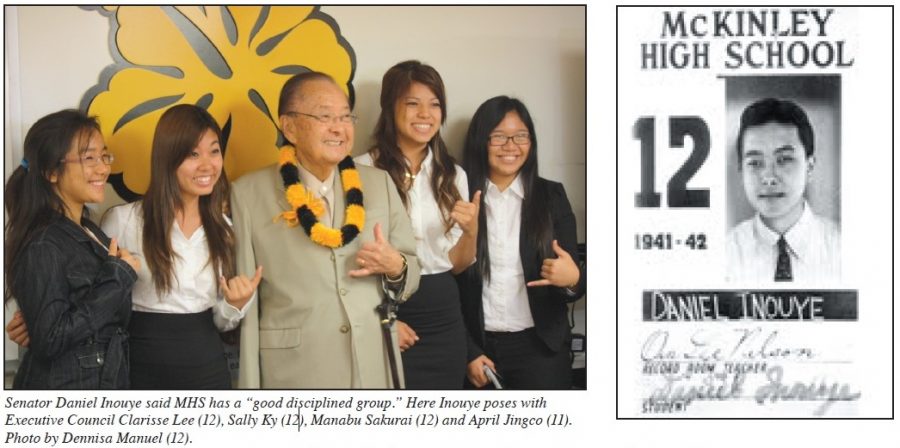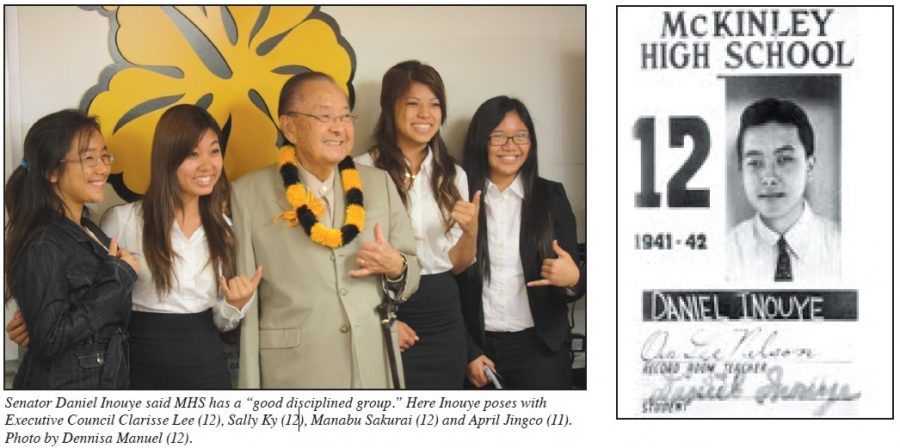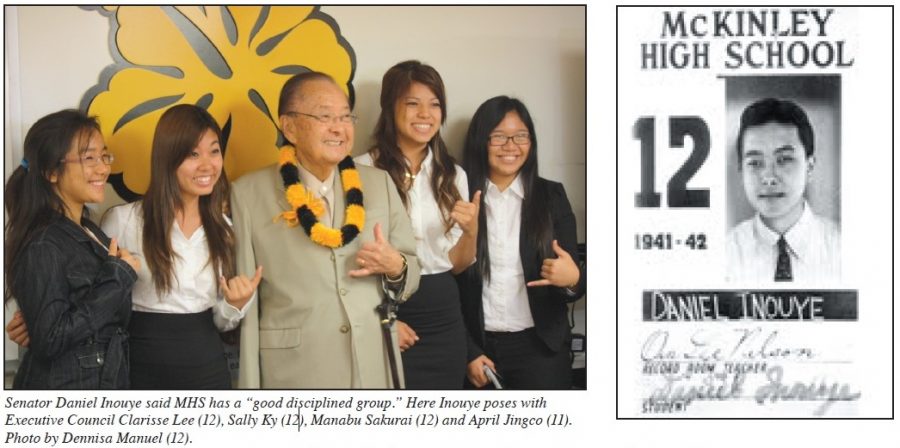 Senator Daniel Inouye spent August strolling down memory lane. He visited three of his former schools, Lunalilo Elementary, Washington Middle, and McKinley High School, where he belongs to the graduating class of 1942. On August 23, Inouye was given a tour in the hallways of A-building and presentations of four different programs in McKinley. The programs were Student Body Government, Robotics, Math Team, and JROTC.
Maggie Kwock (12) was impressed with Inouye.
She said, "The senator humbled himself when addressing his audience and he's just like a grandfather giving advice."
Inouye said that growing up peer pressure made him join a variety of physical activities. One sport he did well in was boxing. He also took part in running.
"I was never fast, but I had good condition so they would put me in the long runs," he said.
"I would always finish."
He was in the band. He didn't know much about marching, but knew how to play the tenor saxophone and clarinet. Inouye was the assistant to the conductor. Throughout his visit, he was surprised at how our school is so different from what it was when he went here. He said that our courses are so advanced that if he were to enroll now, he wouldn't make it.
Another thing is how graduation contrasts. They didn't wear caps or gowns like today, but khakis, white shirts and, by law, gas masks. They had to wear gas masks because his graduation was some months after the Pearl Harbor attack on December 7, 1941.
"Graduation for me was something different," he said.
"The commencement speaker was an army colonel who carried a 45-caliber pistol on his side when he spoke. You don't forget something like that."
After graduation, he volunteered to serve in the army and was a squad leader. He went to Central Europe where he lost his arm, but showed great bravery.
Inouye had no student body government experience at all. Despite this, he was elected senator for Hawaii in 1962. He was re-elected as senator for his eighth term in 2004.
"Every day, there are new challenges. I want to make sure I don't disappoint you," Inouye said.
What got him into his present position was his willingness to help out the country.
"The past two to three generations after Inouye's generation, lives with luxuries as a result of his help. He proved loyalty to America," said Jon Furukawa, math team adviser.