McKinley Track and Field Runs Deeper
Track and field are often thought of as just running, sprinting, and throwing. Although these events are involved in the sport, track, and field runs deeper. The individuality, teamwork, discipline, and endurance make this sport unique. 
Track season started in early February, the first qualifying meets at Roosevelt High School. The season consists of qualifying meets and invitationals. To qualify and progress to Eastern Divisions (McKinley's division), individuals have to get the best time or personal record. 
Christopher Martin, the head track team coach, and senior English teacher was a high school track star in Illinois. 
"(Track and field) is a team sport, but it's also individual. You're on the track by yourself, but working for the team," Martin said. 
Martin stressed how improvement is based on time, not winning. This aspect of the sport improves one's endurance.
"People shy away from running because it sounds difficult, especially on a hot track. If you keep pushing yourself in any sport, including track, you're going to improve," Martin said.
Track and field have a variety of events including long distance, short distance, shot-put throwers, and long jump.
Autumn Perdido (c/o 2026) is a long-distance runner. Along with the track, she plays volleyball. She says Track has helped her in other sports and herself as an athlete, Perdido said. 
"I think track and field have helped my endurance and confidence, even in volleyball," Perdido said. 
Perdido runs 800 meters, which is approximately half a mile, in her long-distance event. In this event, the runner has to do two laps around the track.
"We usually go between running and sprinting—once you reach the last 200 meters, you sprint. You just have to pace yourself," Perdido said. 
Perdido expressed her love for the support of her long-distance team members, saying that they have been supportive and cheerful since the start of the season. Perdido said track and field have helped her health and confidence.
"I joined track and field to stay fit for volleyball season and my health in general," Perdido said. "(Track) has also helped how I interact with others in the same heat as me." 
Maleia Malone (c/o 2023) plays the role of a longjumper. In the event of the long jump, the athlete has to sprint to an 8-inch wide board and jump as high as they can into a pit of sand. 
Malone is one of the four seniors on the McKinley Track and Field team. Malone's last meet was the Eastern Trials on April 7. She also ran the 200 and 400 meters.
"My last meet as a senior was sad. After I graduate, I won't be running anymore," Malone said. "All the meets and practices were very memorable." 
Malone joined track in her sophomore year. She said since then, her form and starter blocks have improved. Starter blocks are a device used in track and field meets to brace feet at the start of a race. 
Along with self-improvement, she noticed the team's improvements and problem areas.
"The track team has improved by helping each other out and working as a team in the relay races. However, they still need to work on not giving up so easily and complaining less," Malone said.
Julian Ramirez (c/o 2024) plays the role of a shot-put thrower. Shot-put throwers are in charge of throwing a 16-pound ball off of their necks, aiming for 35-plus feet. To qualify, the goal is 45ft. His role as a thrower in track and field helps him with his other sport, football. 
"I believe it's going to help me with my grip because I play offensive lines," Ramirez said. "I block the other team to stop them from getting the quarterback."
Ramirez's experience with other sports allows him to see the uniqueness of track. In football, it is often seen as a team against team, Ramirez said. 
"When you join track and field, it's you against you out there. You have to have that confidence," Ramirez said.
Joshua Dela Cruz (c/o 2025) is a short-distance runner. His main event is the 100-meter dash—that's like running across 3.5 basketball courts. He said his event is the most competitive.
"Every millisecond difference counts in my event. From the moment the gun gets off, your reaction time and every second from then on," Dela Cruz said. 
The team has stressed the tension in the meets, but that does not stop the McKinley Track Team from building relationships with other teams. 
"Everyone improved on themselves and friendship as a team—even with other schools, too," Dela Cruz said.
Before McKinley, Coach Martin was Kaimuki High School's track and field coach. Over spring break, Kaimuki and McKinley's track team went over to Kaimuki High School to practice. 
"It was different from our practice, but it was a good experience to see the differences in our schools' training methods," Dela Cruz said. 
This experience has helped his improvement and endurance, Dela Cruz said.
"Practicing with Kaimuki helped me with my endurance. We ran a lot more total distance than what we normally do during practice in McKinley," Dela Cruz said.
The track and field team has been putting in the effort to advance through the last strides of the season.
"Every meet just got better and better. Everyone improved on themselves, friendships, and as a team," Dela Cruz said.
Leave a Comment
Your donation will support the student journalists of McKinley High School - HI. Your contribution will allow us to purchase equipment and cover our annual website hosting costs. We also have advertising options.
About the Writer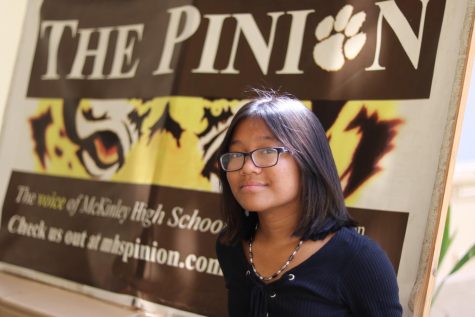 Jacky Oasay, reporter
My name is Jacky Oasay, class of 2026, and I am a reporter for The Pinion. Journalism is, and has been, a dream of mine for quite a while, and I am very...