U.S. Navy Band celebrates Veterans Day
The U.S. Navy Band joined with the Symphonic Wind Ensemble 1 to perform a Veterans Day Concert.
An Vo, editor
November 21, 2019
The United States Pacific Fleet Band (U.S. Navy Band) performed their Veterans Day concert on Nov. 1 from 6:30-8:00 p.m. in the M.M. Scott Auditorium with the McKinley High School Symphonic Wind Ensemble 1 to honor the veterans who made the United States a safer place.
McKinley High School's music director, Donna Hesch, said the U.S. Navy Band has a connection with McKinley because they've cooperated before.
"We have an existing relationship with them," she said. "We've done a few things with them in the past."
Hesch also said why the U.S. Navy Band performed their Veterans Day Concert in McKinley's auditorium. She said it was because they thought it would be a life lesson for the band and orchestra to hear their performance and for Symphonic Wind Ensemble 1 students to play with professional musicians. They joined up to play "Armed Forces on Parade" and "Stars and Stripes Forever."
"They were looking for a place to do a Veterans Day Concert," she said. "They thought it was a good idea to do a concert at our auditorium and invite our students to participate in the concert."
Steven Le, a freshman tuba player, said he thought the Veterans Day Concert sounded professional.
"It was a good experience to hear and see the more experienced players play," he said. "They sounded very good."
Karen Huynh, a junior flutist, was a part of Symphonic Wind Ensemble 1. She shared her experiences playing with the U.S. Navy Band. She said playing with the U.S. Navy Band inspired her to learn and to strive for a new goal.
"It was an amazing experience being able to play side by side with professional musicians," she said. "Playing with them gave me a new goal to strive for and gave me the opportunity to learn many new things."
About the Contributor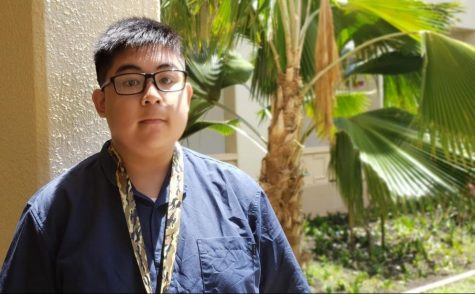 An Vo, editor
My name is An Vo, and I'm a freshman reporter for The Pinion. During my free time, I usually practice the flute to better myself as a musician in the McKinley...