Journalism Leads to Sense of Achievement
For the past two years, we the students of McKinley High School have experienced unprecedented times that have had a profound effect upon us. The Pinion staff reported on it all
In school year 2020-2021, The Pinion staff were all first-year journalists learning the basics of journalism on the Zoom, Google meets, or Webex platforms (constantly changing due to the internet lag). I struggled big time. Interviews are such an important part of journalism and I couldn't figure out what the interviewee was thinking or feeling over virtual platforms. I had to be innovative. Many of the ways I had to get in contact with sources were Google Meets and Gmail. They even texted me their answers through Discord!I wasn't feeling the joy of journalism. Then I discovered The Pinion archives. I didn't know that our school used to have a daily newspaper. I started to search for more information about our school's history from the beginning of The Pinion in 1920 all the way to the present. Because it was The Pinion's centennial year, we interviewed former staffers. During this time, I found my pride in this school, this newspaper and journalism in general.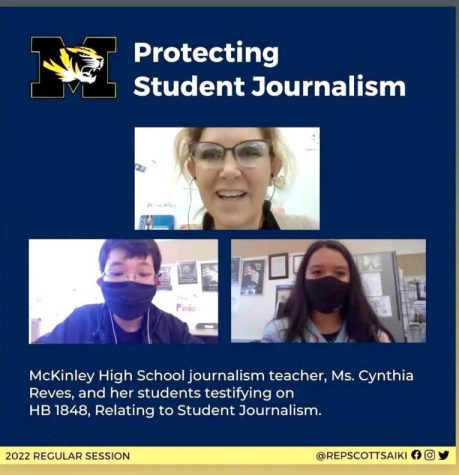 Unlike last year's restrictive situation, this year was more rewarding. During the first quarter, I was able to interview students and teachers in person. Interviewing people I don't know can lead to interesting stories.
I even wrote a piece for the Star-Advertiser. I interviewed Jack Seitoku Nakamura an 100th Battalion nisei veteran. This project came with challenges. Because of COVID, we had to use Zoom, but I was better at it than last year. We also had to use a land line phone to talk to Nakamura to compensate for his hearing loss from being thrown 30 feet by an artillery shell. Even with all these issues, listening to his mesmerizing stories about the war every week was a reward in itself. Many of his stories were about how he received his purple heart awards, befriended German prisoners war, and even how he met General Eisenhower.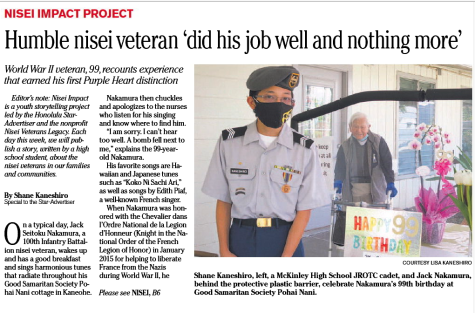 While I was writing for The Pinion and interviewing Nakamura, a bill to protect the First Amendment right of student journalists, HB1848, was going through the legislature. The Pinion staff led the advocacy for this bill. We set up zoom meetings with other newspaper staff from other schools (even neighbor islands) to educate them about this bill. Throughout the entire legislation process, we learned how to participate in democracy (without a social studies class!) to testify confidently to the committee members in person and online. I testified at the first two hearings via Zoom.
During spring break, the state capitol reopened to in-person testimony. Three of us testified in front of the senate education committee. One member asked us if we had written about the controversy regarding McKinley's school name and even asked us to send a copy of the article. Once the governor signs the bill, it will become law. And we helped make that happen.
Even with all these events, we were able to win several awards in the Hawaii High School Journalism Awards contest. We placed third overall in the writing division. Thanks to senior staffer, Althea Cunningham, we also won several honorable mentions in the artistic categories. We will miss Althea next year.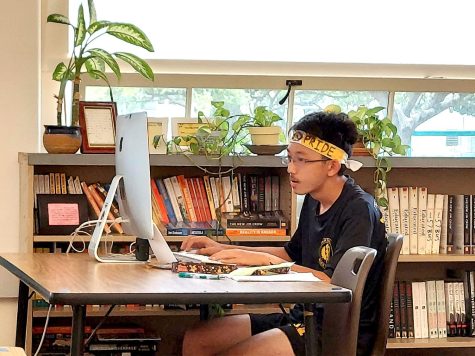 With journalism, like life, there are always challenges, but The Pinion staff overcame them and the outcomes were greater than we could have hoped.